The professional email signature to grow your business!
1,190,728,557 emails sent with WiseStamp!
Buy Now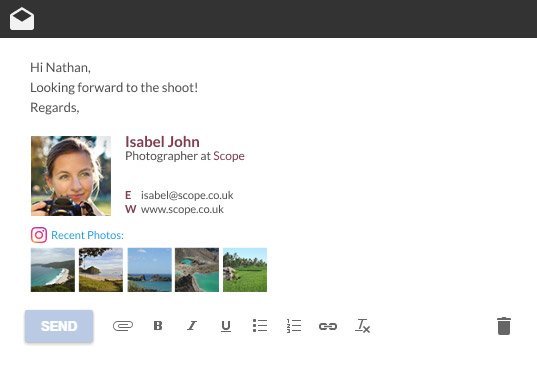 Once You've Created The Email Signature Of Your Dreams
When you leverage wisestamp's signature design & add your photo
in social networks, when adding social apps
for users who create signature with the schedule a meeting app
on the signature for users who upgraded to PRO & created their unique email signature
Over 700,000 Professionals
Already use their WiseStamp signature to grow their business. Now it's your turn.
The email signature your business needs
We've created a vast variety of templates, apps and designs to fit any type of business
Getting Started / FAQ
What is WiseStamp?
WiseStamp is an email signature platform that enables you to create engaging signatures to personalize your email correspondence. It's a powerful way to promote yourself and grow your business. Use designer made templates and powerful Email Apps to get more out of your emails.
How does WiseStamp work?
All you need to do is download the WiseStamp extension to your browser and your signature will automatically load into your web based email. To learn how to download the extension click on the browser you'd like to use:
Users with desktop app email programs such as Outlook and Mac Mail will need to use our export feature, available to PRO users, to see their signature in emails. Click here to upgrade now!
Why should I use WiseStamp?
Email signatures are a great way to add professionalism to any email. By inserting a WiseStamp signature into your emails you can easily promote your business by giving users 1 click access to your website, Ebay shop, smartphone app downloads, your business blog, and more!
What's the cost for WiseStamp?
WiseStamp is a free service. If you'd like to make more out of it you can always go Pro. With the Pro account you can:
Use your signature on Outlook, Mac Mail, iPhone, and other non-supported programs
Remove the WiseStamp branding from the bottom of your signature
Access Premium templates
Create multiple signatures
Assign different signatures for compose and reply emails
Use all design options (social icon size, template color, etc.)
Add custom social icons
Receive priority support
How do you use WiseStamp?
It's the simplest way for you to create an engaging signature without needing to know any coding or web design. WiseStamp's editor generates rich HTML email signatures that can be inserted into most popular email programs. To use WiseStamp all you have to do is create a signature in our editor, add the browser extension, and your new signature will automatically insert into your emails.
If you're using a desktop app email program, such as Outlook or MacMail, you'll need to use our export feature, available to PRO users. Become a PRO!
How do I sign up?
To sign up go to webapp.wisestamp.com/login. Design your signature, save your changes, and download the WiseStamp extension. Now all you have to do is refresh your mail program, and when you compose a new email your signature will be at the bottom. If you need some assistance with downloading the WiseStamp extension click here.
How do I create my signature?
Go to webapp.wisestamp.com/login to first create your account. Next you'll be brought to the editor where you can fill in your personal details such as name, phone number, company logo, and choose a template.
Make sure to click "OK, I'm Done" so the signature saves on your account.
If you're using a desktop app mail program, such as Mac Mail or Outlook, you'll need to export your signature. Our export tool is only available to PRO users. Click here to sign up for a PRO account now!
How can I add images to my signature?
You can add a logo to your signature through the photo upload option. You can add additional images to your signature with the Custom HTML app.
Locate your image on the web.
Copy the image address.
Select the Use Custom HTML app.
Use this code format to add the address link to the HTML app.
Click "Add to signature" and the image will appear at the bottom of your signature in the previewer.
Don't forget to save your changes and refresh your mail program to send your updated signature with your emails!
How many templates do you offer?
We offer a couple templates to our free users, but our Pro users have access to many more professional looking signatures. To see the full range of templates upgrade now!
I'm hesitant to sign up, what if I don't like it?
You can sign up for a free account to give it a try. If you don't like how the program works simply uninstall the WiseStamp extension from your computer and your signature will no longer appear in your emails.
If you signed up for a PRO account and decide for some inconceivable reason you don't like it, just let us know within 30 days and we'll be happy to refund your payment. So what's the harm? Give it a try!
The Best Email Signature Fonts and Why They Work
The best fonts to use for your email signature include: • Verdana (Sans-Serif) • Courier (Monospaced slab sans-serif) • Georgia…
5 Professional Email Signature Templates by Industry
Here are 5 examples of professional email signature examples for: E-commerce Service providers Marketers & Social influencers Media producers, Designers…
Don't Make These 5 Common Mistakes with Your Email Signature
Optimize your email signature by avoiding these 5 common mistakes Misusing fonts Forgetting links Forgetting an image Misusing color Having…
For more information
email info@nydla.org or fill out the form below!
Members of NYDLA get 20% OFF! Contact us now today!