Upgrade Your Online Meetings
Our newest BlueJeans video conferencing plan comes with unlimited recordings, real-time transcription, and so much more.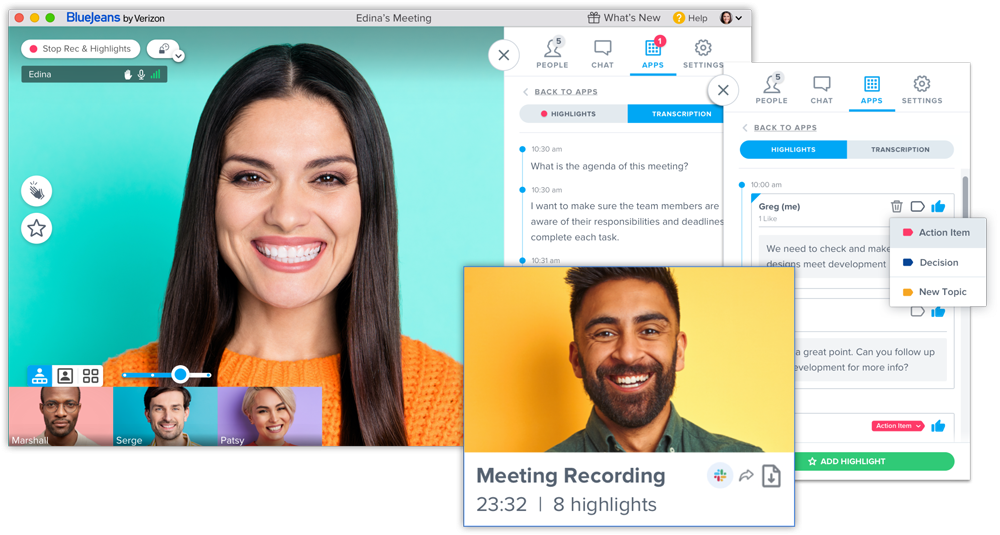 WHAT MAKES BLUEJEANS DIFFERENT
Real-time Intelligence
Improve productivity with meeting highlights and transcription and simplify management with live meeting controls, analytics, and automated alerts.
Unparalleled Interoperability
Provide users with one-touch access to meetings regardless of the device, browser, online meeting platform, or room system used.
Enterprise-Grade Security
Protect your organization from malicious attacks, safeguard end-user privacy, and establish trust with everyone that joins your meeting.
Video Conferencing for the Digital Workplace
BlueJeans Virtual Meetings

The secure video conferencing platform that makes you more productive.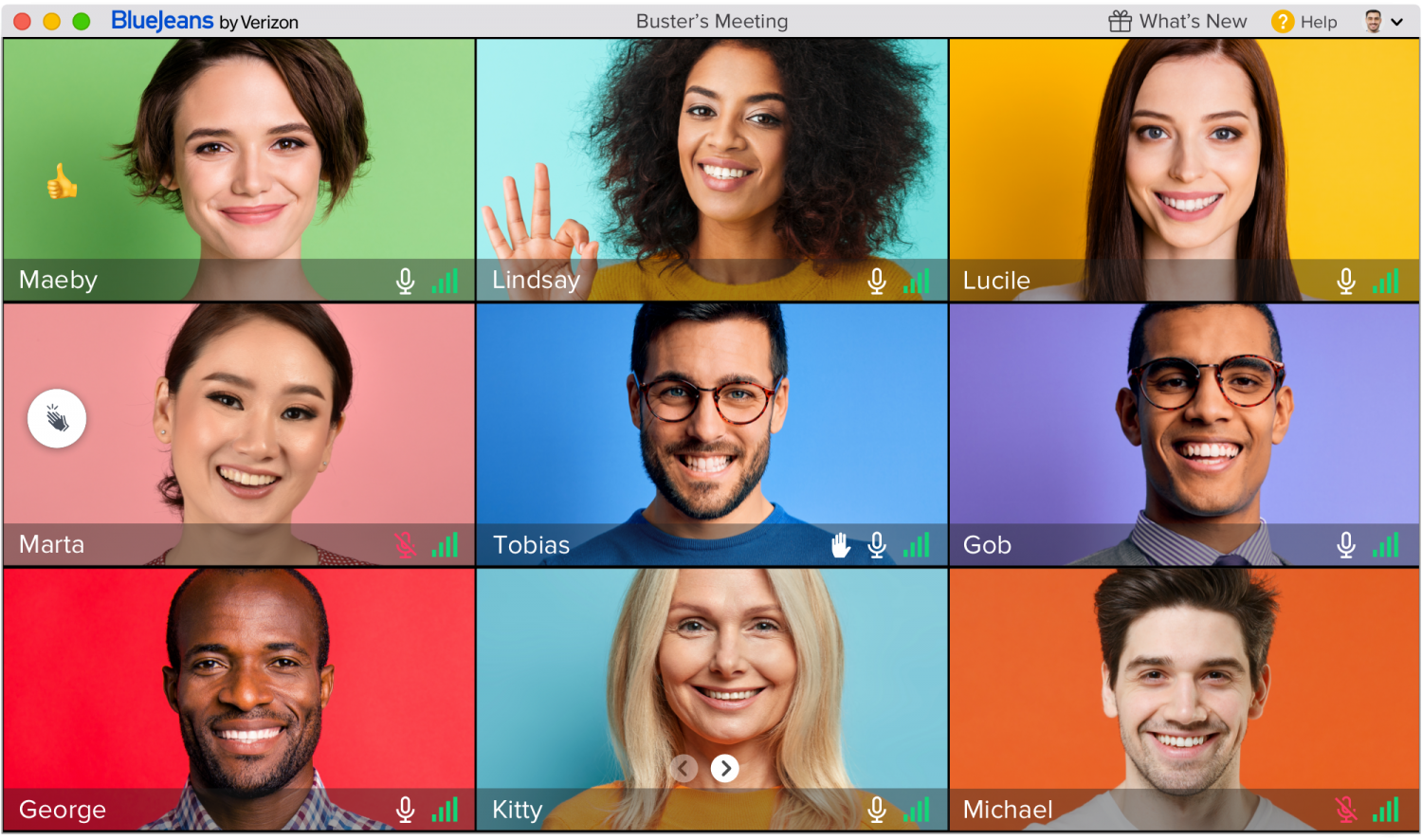 INTEROPERABILITY IS AT OUR CORE
Video conferencing platform for the digital workplace
BlueJeans on the go
The modern worker needs to stay connected regardless of where they are located. BlueJeans Mobile for iOS and Android delivers crystal-clear audio, intelligent bandwidth management, and a safe driving mode to ensure that you can remain productive even when you are on the move.
BlueJeans at home
Maximize productivity from home with the BlueJeans video conferencing platform. Whether joining from your laptop, or from secondary devices like an iPad or Portal from Facebook, you get complete flexibility with smart cameras that keep the focus on you, and Dolby Audio for crystal clear, distraction-free sound.
BlueJeans in the conference room
BlueJeans is the leader in room system interop, having successfully connected with more than 19,000 different hardware configurations. Customers experience intuitive in-room controls, unified room system management, and multi-vendor support with BlueJeans Rooms.
BlueJeans App Network
A portfolio of productivity-enriching software integrations that enables users to connect their calendars, link their workstream collaboration apps, and unlock more value before, during, and after their meetings.
BlueJeans Virtual Events

Host and manage live interactive webinars, virtual town halls, and events for large audiences around the world on a secure, virtual events platform.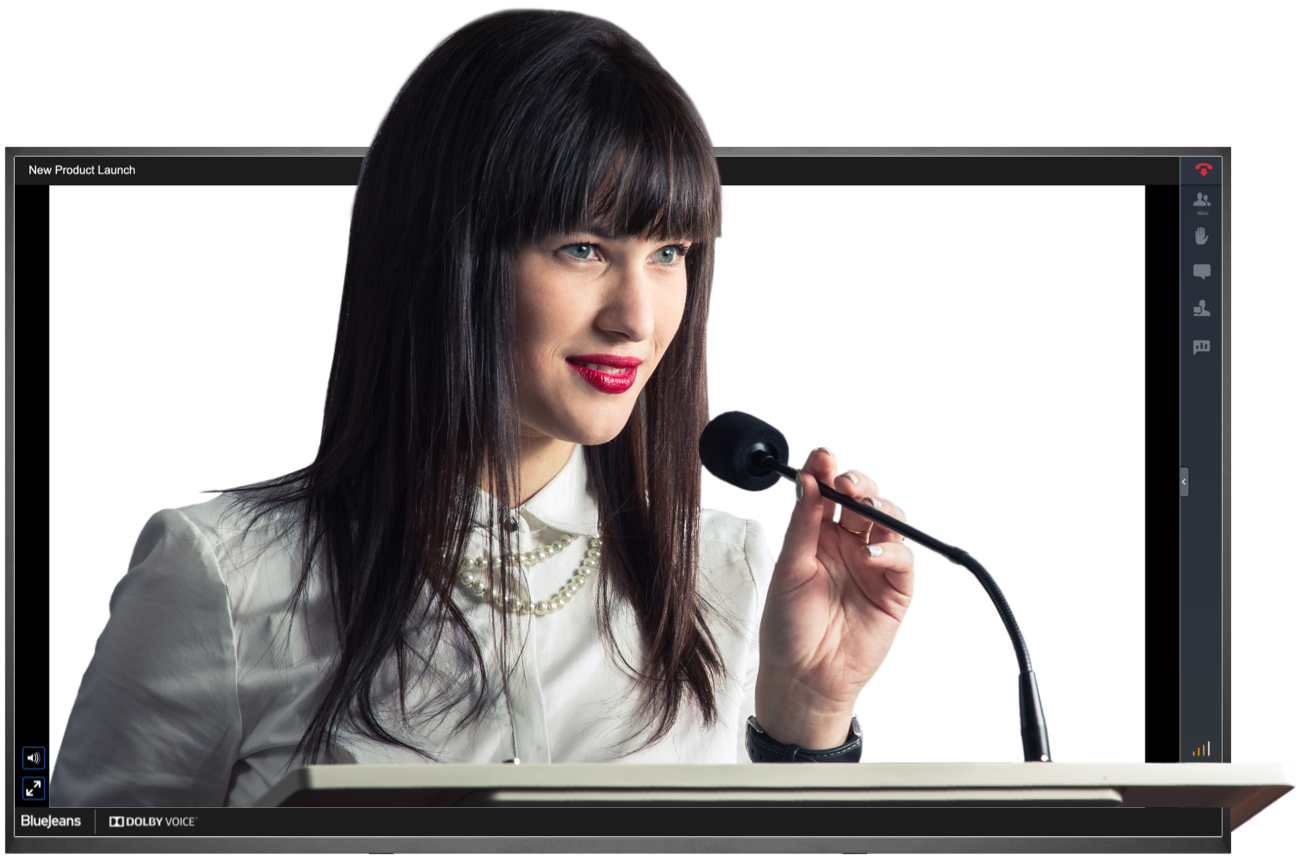 BLUEJEANS VIRTUAL EVENTS SOLUTIONS
Be Interactive on Our Virtual Events Platform
BlueJeans Events brings a whole new level of interactivity to all-hands meetings, town halls, and webcasts. Engage up to 150,000 attendees with immersive video, Q&A, polling, and large meeting controls.
Employee all-hands meetings
All-hands meetings should include everybody. Transform your next all-hands meeting into an open forum where anyone, anywhere can ask questions, explain what's on their mind, make announcements or share information — all through a live, virtual webcast.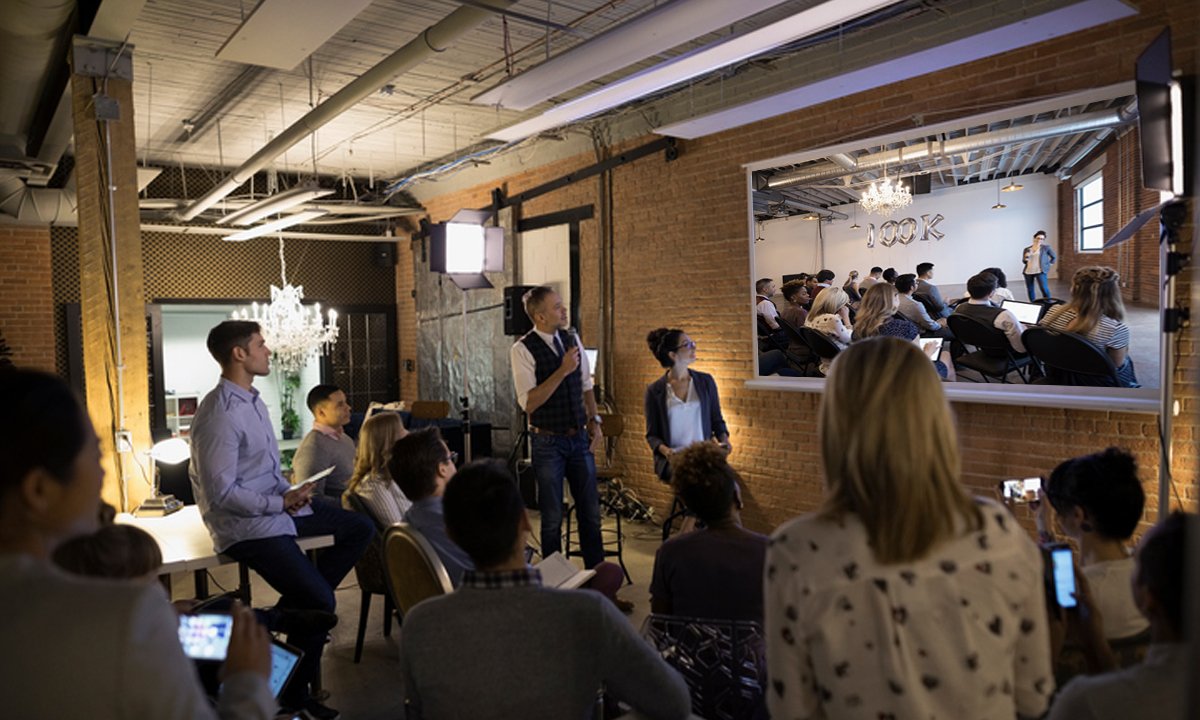 Marketing webinars
Engage customers and prospects with a modern, interactive webinar experience that brings together HD video with Q&A, polling, and rich moderator controls. Now with Marketo access to nurture your leads pre- and post-webinar.
Training educasts
Transform online education and virtual training events from one-way webcasts to virtual learning experiences that engage learners through immersive video, audio and content sharing, multi-way idea exchanges, Q&A, and polling.
BlueJeans Rooms

Turbocharge your conference rooms and huddle spaces with the power of BlueJeans video conferencing systems.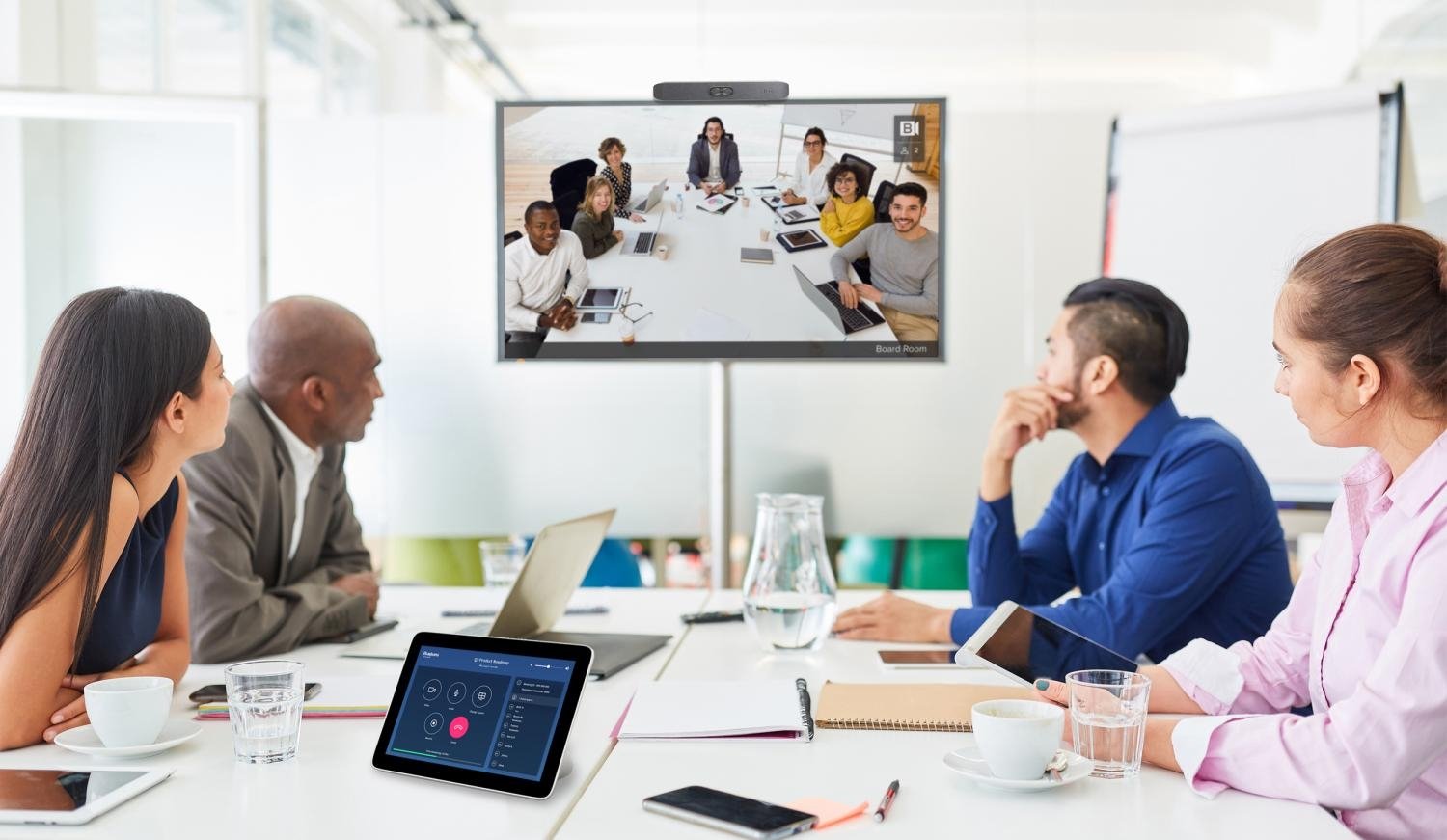 BLUEJEANS VIDEO CONFERENCE ROOMS
Transform How Your Organization Works
BlueJeans is on a mission to modernize traditional meeting rooms and convert them into digital workplaces. Whether outfitting new rooms with the latest hardware or using your existing room systems, BlueJeans has the right solution for you.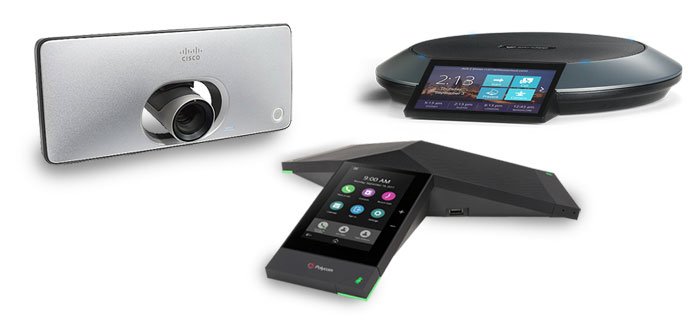 Integrate Video Conferencing with Existing System Hardware
Connect BlueJeans Rooms with leading room system hardware from Poly, Cisco, Lifesize and other standards-based solutions.
Key Capabilities of Video Conference Rooms
Eliminate join frustration

One-touch join and user-centric meeting controls minimize meeting friction and help attendees do their best work.
Flexibility to suit your needs

Regardless of room size, room hardware or conferencing service, BlueJeans Rooms can adapt to meet your needs.
Unparalleled management

Streamline room deployment, device management, and room health monitoring with BlueJeans Command Center.
BlueJeans Gateway for Microsoft Teams

The easiest way to connect your existing conference room systems to Microsoft Teams video conferencing.
Cloud Video Interop for Microsoft Teams
BlueJeans Gateway — a Microsoft-certified, cloud video interop (CVI) solution — is the easiest way to bring the power of Teams video meetings into your conference rooms and huddle spaces. BlueJeans' pure SaaS solution interoperates with thousands of room system configurations, like Cisco, Poly and Lifesize, making the most of your existing hardware investments and giving you ultimate flexibility
Key Capabilities of Video Conference Rooms
Deploy In Four Easy Steps

BlueJeans' all-inclusive solution provides everything you need to run Microsoft Teams Meetings on your existing room systems. Our pure SaaS model means that no additional infrastructure or long-term project management is necessary for deployment.
Minimize Management Overhead

BlueJeans' multi-tenant solution pushes automatic software updates and security patches without manual intervention, requiring zero downtime. Global server load balancing and failover provide reliability and flexibility to scale as needed.
Connect Every Endpoint

BlueJeans Gateway cloud video interop scales across all heterogeneous room environments, supporting more than 19,000 VTC models from brands like Cisco, Poly, and Lifesize with a consistent one-touch join experience regardless of room system.
BlueJeans Telehealth

Drive better patient outcomes with high-quality virtual care on an intuitive telehealth platform.
BRING PERSONALIZED CARE CLOSER TO HOME
Deliver Next-Generation Virtual Care
BlueJeans Telehealth is a simple, smart way for providers to meet with patients over video. By mapping the user experience to clinical team workflows, the BlueJeans Telehealth platform helps replicate the experience of onsite encounters and patient interactions while also providing the flexibility of virtual health care.
Simplified Experience
Make virtual visits easy and intuitive for patients and providers. Patients can simply click on the link and access the appointment from their browsers, with no app download or setup required.
Personalized Care
Mirror an in-person visit by customizing the patient landing experience with symptom capture fields and guided messaging. Leverage your branding and content library to showcase your practice area.
Data Driven
Integration with the Apple Health app allows patients to share certain categories of their Health app data — including heart rate, step count, and sleep data — so patients and providers can have more tangible conversations.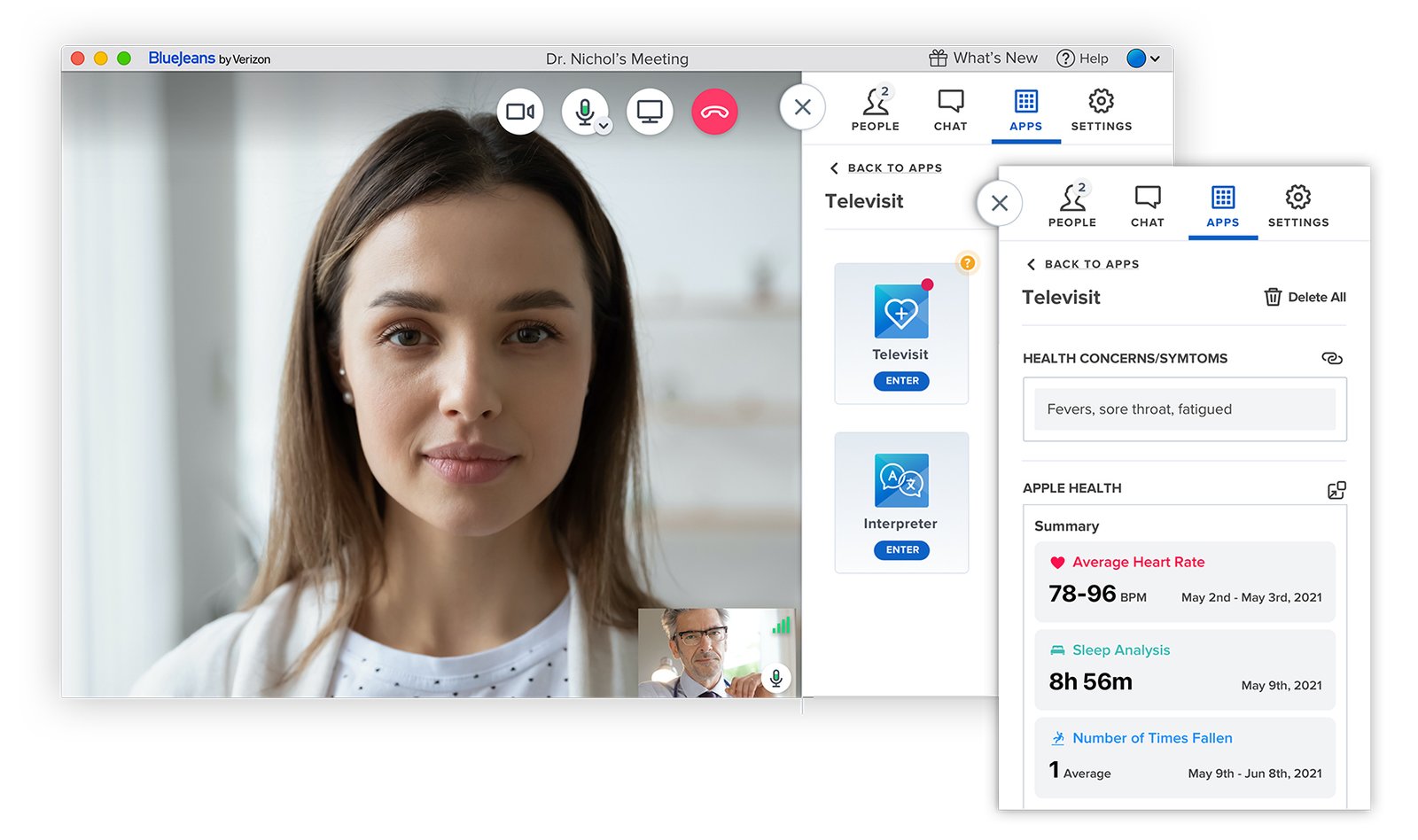 HIPAA Ready
Be confident that you are protecting vital patient and employee information with robust security features. BlueJeans Telehealth is HIPAA-ready and meets applicable requirements under the HIPAA Security Rule.
Coming Soon…..
BlueJeans Expo
All-in-one virtual event management platform for delivering fully customizable digital experiences.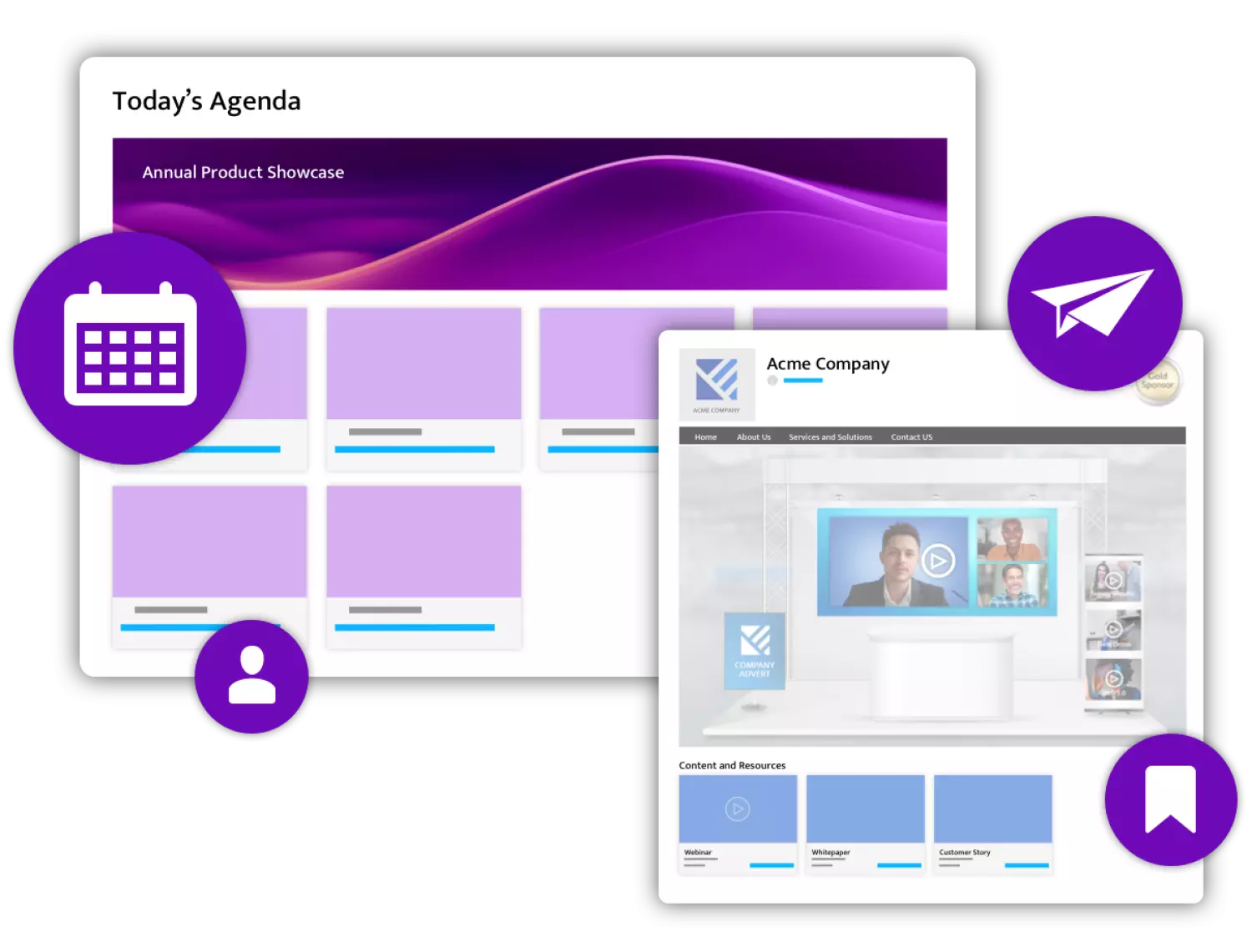 BLUEJEANS VIRTUAL EVENT MANAGEMENT
Simplify Event Production with a Fully Integrated Platform
Bring multi-session, multi-day virtual events to life with endless customization options, dynamic attendee experiences, and amazing video quality.
REDUCE MANAGEMENT OVERHEAD
Organize Incredible Events
BlueJeans Expo features a comprehensive event lifecycle framework to power pre-, during, and post-event workflows to make everything from registration to reporting a breeze.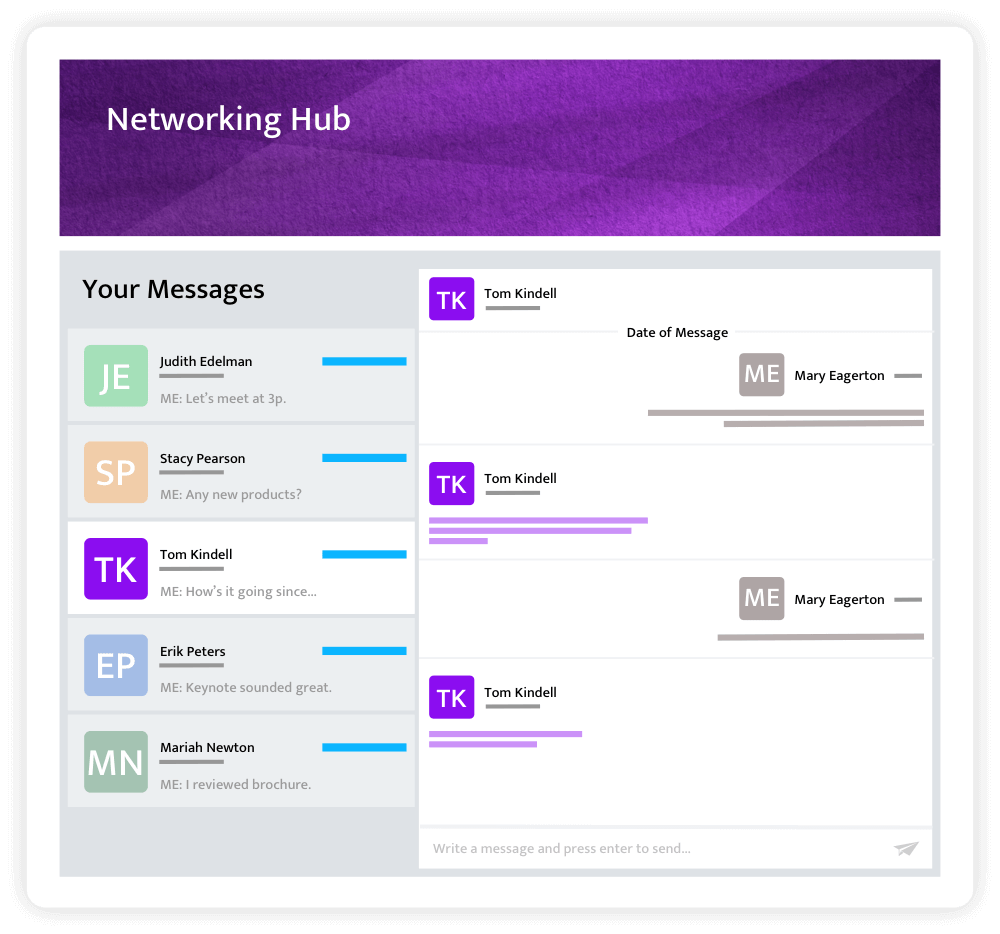 ELEVATE NETWORKING EXPERIENCES
Boost Attendee Participation
Offer virtual attendees the ability to make meaningful connections with an intuitive directory that supports simple profile creation, quick filtering, and role-based chat to prompt engagement.
Impress Your Audience
Event hosts can easily pack their agenda with sessions featuring BlueJeans Events' broadcast-quality production capabilities or the conversation-centric collaboration features found in BlueJeans Meetings.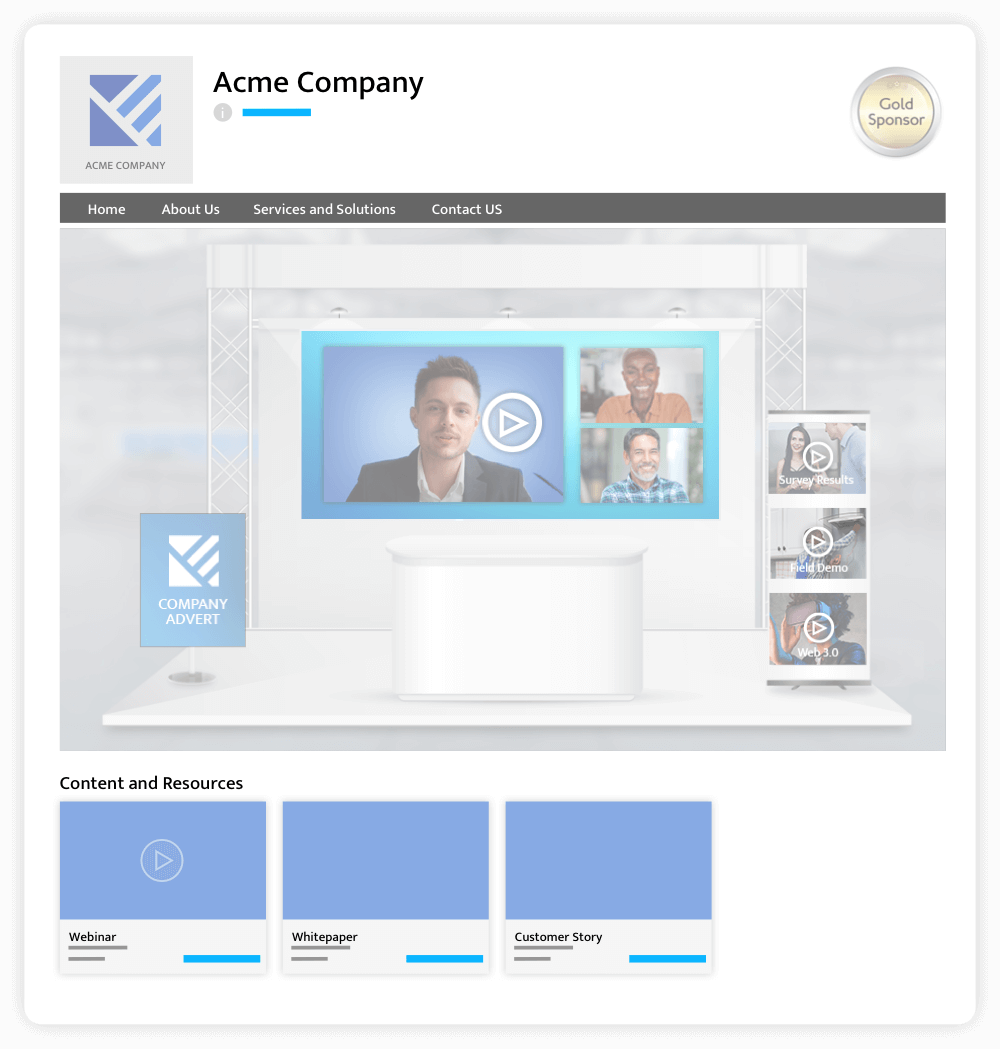 Key Features of BlueJeans Expo
Attendee Management
Upload attendees, use built-in forms, or integrate with third-party registration systems to add and establish the attendee record.
Analytics & Reporting
All event activity is tracked and displayed in Expo's reporting system to view online, download, or deliver to an external system.
Content Management
Upload documents, add on-demand videos, and organize content into catalogs that are easily segmented by attendee type.
Session Management
Add video sessions, manage sign-ups, and send reminders. Automatically receive registration, attendance, and on-demand session reports.
Messaging
Automated emails welcome, notify, and remind attendees about upcoming sessions. Custom messages and newsletters are easy to configure.
Virtual Booth
Feature-rich, brandable virtual booths hold content, videos, and create calls-to-action that produce engagement.
The Always-On Event Destination
BlueJeans Expo provides community managers an easy-to-customize solution
that can quickly transform from a live streaming and real-time networking
destination into an on-demand content hub that delivers engagement
opportunities 365-days a year.
BlueJeans – SIMPLE. SMART. TRUSTED.
NYDLA Members enjoy SPA (Special Pricing Authorization) for all things BlueJeans
Try BlueJeans. It's simple.
Experience online meetings with HD video and Dolby Voice audio. Your meetings have never been this productive.