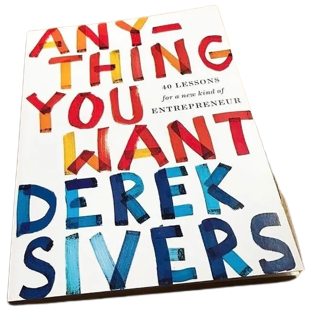 40 new lessons for a new kind of entrepreneur
My tales of starting, building, and selling CD Baby, compressed into an entertaining and useful one-hour read.
In Anything You Want, Sivers details his journey and the lessons learned along the way of creating CD Baby and building a business close to his heart. "[Sivers is] one of the last music-business folk heroes," says Esquire magazine. His less-scripted approach to business is refreshing and will educate readers to feel empowered to follow their own dreams. Aspiring entrepreneurs and others trying to make their own way will be particularly comforted by Sivers straight talk and transparency -a reminder that anything you want is within your reach.
Overview
You started a business. But why?
Entrepreneurs often lose sight of what matters. Are you helping people? Are they happy? Are you happy? Are you profitable? Isn't that enough?
Derek Sivers accidentally started a business by helping musicians sell their music. It became the largest online seller of independent music with over 150,000 musicians and $100M in sales. After ten years, he sold the company for $22 million and gave all the money to charity.
In "Anything You Want" he shares 40 powerful lessons, in a book you can read in about an hour.
Derek Sivers is an author of philosophy and entrepreneurship, known for his surprising quotable insights and pithy succinct writing style. Formerly a musician, programmer, TED speaker, and circus clown, he sold his first company for $22 million and gave all the money to charity.
He is best known for being the founder and former president of CD Baby, an online CD store for independent musicians. A professional musician since 1987, Sivers started CD Baby by accident in 1997 when he was selling his own CD on his website, and friends asked if he could sell theirs, too. CD Baby went on to become the largest seller of independent music on the web, with over $100M in sales for over 150,000 musician clients..
In 2008, Sivers sold CD Baby to focus on his new ventures to benefit musicians, including his new company, MuckWork, where teams of assistants help musicians do their "uncreative dirty work". His current projects and writings are all at sivers.org.
In June 2013, Sivers launched his new company, Wood Egg, which published annual guides on how to build companies in Cambodia, China, Hong Kong, India, Indonesia, Japan, South Korea, Malaysia, Mongolia, Myanmar, Philippines, Singapore, Sri Lanka, Taiwan, Thailand, and Vietnam.
He is the author of 4 books, How to Live, Hell Yeah or No, Your Music and People, Anything You Want.
What Did the Editorial Reviewers Say?
Anything You Want is a business book like no other. Derek Sivers built a business a different way, a human way. He did it with no investment and a series of apparently crazy principles. And they work. They worked for him and they might work for you. A brilliant book.
I love this book! Derek is the entrepreneur's entrepreneur. Just as important, perhaps more so: he is a phenomenal teacher. Whether detailing the fascinating rise of CD Baby, explaining catastrophic (but common) founder mistakes, or teaching me about relational databases in two minutes using analogies, he makes the complex simple. Moreover, he makes it all actionable. If you want a true manifesto, a guidebook with clear signposts, and a fun ride you'll return to again and again, you have it here in this book. I hope you enjoy it as much as I did.
One of the last music business folk heroes. Derek Sivers is changing the way music is bought and sold.
Paid Members of NYDLA: Email the receipt from your book purchase to DerekSivers@NYDLA.org and we shall credit your NYDLA membership fee for one month (a $25 value). Fill out this form to purchase the book.