As we enter the new year, we're facing new business challenges. In this season of economic uncertainty, how will your organization manage costs while also growing your business? Organizations that adopt a customer-first, resilient mindset and take calculated risks to drive strategic investments will be in the best position to succeed. But how do you build resilience into your business? What does innovation look like in times of change? What are you doing to keep your customers happy and generate new revenue streams?
In an unpredictable future, business leaders will look to innovate new ways of work using existing investments – in technology and in people. Core to that is equipping your teams with the tools to meet evolving customer expectations, using data to identify trends and growing revenue without taking on new risks.
Kick off the new year with Zoom at our free, virtual Work Transformation Summit to:
Hear from industry leaders on how they're navigating these uncertain times and trends to keep an eye on
Learn how to leverage technology to increase sales efficiency and effectiveness, and improve the overall health of your business
Gain practical, actionable insights that will supercharge your customer-facing teams while streamlining your technology investments.
AGENDA
9:00–9:05 am PT: Opening Remarks
9:05–9:40 am PT: Innovate to Navigate: Strategizing for 2023
Zoom CFO Kelly Steckelberg will be joined by Jim Maholic, best-selling author of "IT Strategy," where they will discuss ways organizations should plan for future success. Leveraging their expertise in finance and IT strategy, they'll walk through how to prepare your business for the unexpected, what strategic areas of the business to focus on, and how to think about the role of technology in driving new growth and increasing profitability.
9:40–10:05 am PT: Identifying Where You Can Make the Most Impact
Join Zoom CIO Advisor Janine Moreno and a panel of Zoom customers for a candid conversation on confidently navigating the future of work through the lens of each company's experiences and insights. This discussion will focus on topics like tackling new economic changes, improving customer and employee experiences, and key learnings from the past year.
10:05–10:25 am PT: Build Resilient Revenue Teams Through Insights and Better Collaboration
Customer-facing teams are essential to navigating times of high uncertainty: they will identify new growth areas while keeping current customers happy. To make them successful, you must provide tools and insights that will help them prioritize opportunities, remove distractions so they can focus on the customer, and improve team collaboration to deliver a superb customer experience. This discussion will focus on best practices and innovations that will help your customer-facing teams thrive.
10:25–10:55 am PT: Analyst Perspectives: Work in 2023 and Beyond
Join Joseph Chong, Zoom's Head of Product, Solutions, and Industry Marketing, and a panel of expert analysts as they discuss the global future of work. Preview the impact new technologies, borderless collaboration, customer experience, and the adoption of automation will have on organizations in 2023 and beyond.
10:55–11:00 am PT: Closing Remarks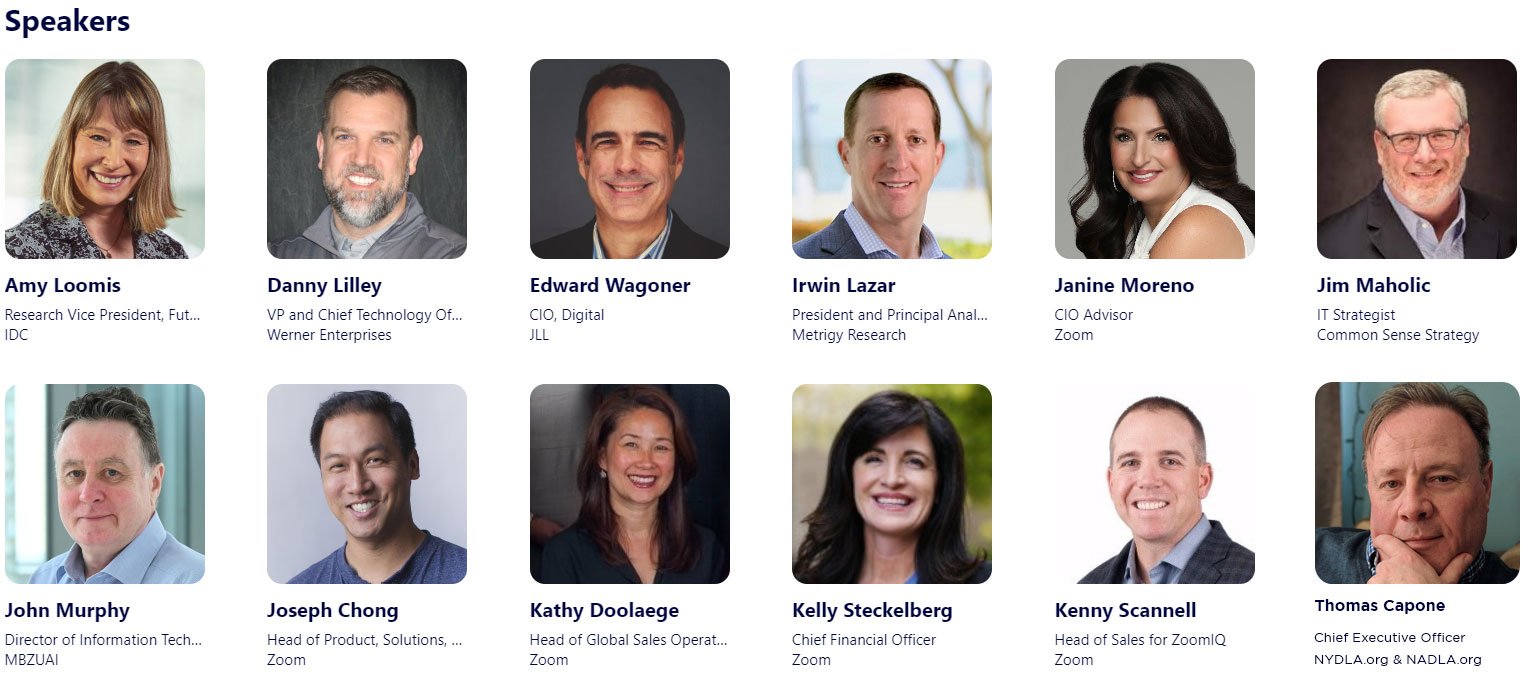 REGISTER TODAY
NYDLA Members gets VIP access to the LIVE Event
Fill out the form below to register or send an email to
Zoom@NYDLA.org