Click here to watch the video podcast of Thomas Capone with Frank Schaeffer
and talks about his book entitled
"Fall in Love, Have Children, Stay Put, Save the Planet, Be Happy"
A post-coronavirus evolution-based how-to for putting living ahead of work.
Bestselling author Frank Schaeffer offers a passionate political, social, and lifestyle "blueprint" for changes millions of us know are needed to rebalance our work lives with thriving relationships: Fall in Love, Have Children, Stay Put, Save the Planet, Be Happy. Even before everything was disrupted by COVID-19 (not to mention by Trump), millions of Americans were already questioning capitalism's "values." We were already challenging the idea that your job defines you. We already knew something was wrong. Loneliness, frustration, and alienation were already on the rise. Even the most successful of us felt too busy, too preoccupied, and too distracted to enjoy what we intuitively know are life's greatest rewards: vibrant relationships, family life, connection to others, involvement in our community, and the thrilling experience of love. 
Fall in Love . . . builds a well-researched and entertaining bridge to living happier lives and to a better future. It shows us that based on a better understanding of our evolutionary selves, we can thrive in family life and in our work life, too. But to do both joyfully—and at the same time—depends on rediscovering the priority of relationships, connections, community, and love.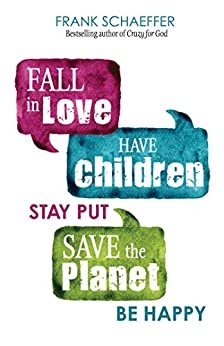 Frank Schaeffer is a New York Times bestselling author of more than a dozen books. Frank is a survivor of both polio and an evangelical/fundamentalist childhood, an acclaimed writer who overcame severe dyslexia, a home-schooled and self-taught documentary movie director, a feature film director of four low budget Hollywood features Frank has described as "pretty terrible." He is also an acclaimed author of fiction and nonfiction and an artist with a loyal following of international collectors who own many of his paintings.
Frank has been a frequent guest on the Rachel Maddow Show on NBC, has appeared on Oprah, been interviewed by Terri Gross on NPR's Fresh Air and appeared on the Today Show, BBC News and many other media outlets. He is a much sought after speaker and has lectured at a wide range of venues from Harvard's Kennedy School to the Hammer Museum/UCLA, Princeton University, Riverside Church Cathedral, DePaul University and the Kansas City Public Library.
Paid Members of NYDLA: Email the receipt from your book purchase to FrankSchaeffer@NYDLA.org and we shall credit your NYDLA membership fee for one month (a $25 value). Fill out this form to purchase the book from Amazon.