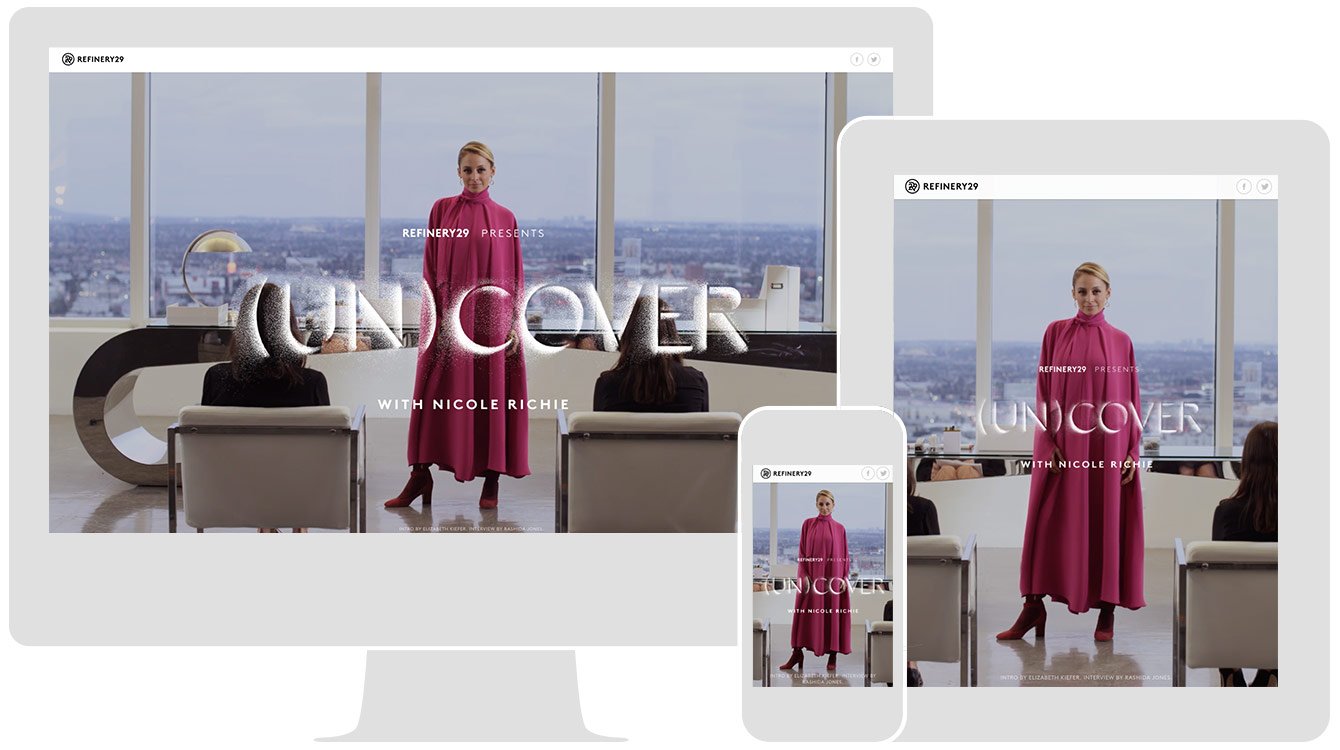 From longer narrative stories to interactive shopping experiences, Refinery29 is leveraging the Shorthand tool to move the needle on content creation and empower designers… without breaking the bank.
"Our internal CMS is great for features, but we wanted to experiment and test new ways of storytelling. We can rely on the platform to do that in a cost effective manner and not pull on too many resources internally," explained Dan Maffei, senior producer for product marketing at Refinery29.
"Shorthand is flexible and allows us to experiment without running up huge cost with developers. The ability to experiment and take ownership of the output allows us to explore different features, scale our offering and figure out what we want to try next."
Refinery29 – a leading resource for fashion, beauty, lifestyle and health news – with a global audience of over 500 million across platforms, started using Shorthand in April 2016.
At first, the focus was on producing longform fashion week stories, using Shorthand's scrollmation sections to create animation effects and bring the narrative of those events to life. Now, the focal point has shifted to creating interactive shopping experiences – often in collaboration with commercial partners.
More time for creativity
When Shorthand was first adopted by Refinery29, Dan was the first to use the platform. Then it was introduced to the product team and designers, before its use was rolled out further.
According to Dan, it has been fun to see the use of Shorthand unfold and creativity flourish among its users. "Letting the designers build as much as they can and letting their creativity shine through has been the best part of working with this platform," he explained.
"They have not had to reinvent the wheel though. Our shopping template, for example, allows us to utilize features and focus on high quality design assets on images. We can customize too; add custom code or embeds – it's very flexible."
As a result, the tool has helped free up both time and resources. "While our stories look custom, I've taken a back seat and allowed designers and photographers to take the lead. Once they have an understanding of the format, they can confidently answer questions and figure things out on their own – rather than looking to me or a developer to augment their creative thinking," Dan said.
Now, Dan is simply handling deployment and some custom styling of their Shorthand stories. That ability to step back is largely down to the user interface (UI) of the Shorthand editor and how easy it is to get to grips with. "It's a straightforward tool," he commented. "It's an easy to use, affordable option for experimenting with different storytelling formats."
While the shift to interactive shopping stories means Dan is turning his analytical eye to testing different layouts in favour of click-throughs, everyone at Refinery29 has been impressed with the reader metrics so far – especially time on page. Dan added: "We are seeing high engagement metrics as a result of utilizing the 'out of the box' features."