Join us for Breakfast:
November 7th, 2018 8am – 10:30am
Wells Fargo Headquarters 150 East 42nd Street (Concourse Level)

WELCOME TO WELLS FARGO CYBERSECURITY SUMMIT
Until recently most business owners protected their data by simply using an external hard drive and taking a copy home. The fear of loss by fire or water was paramount. However, the world has changed. Convenient access to data from multiple access sources – laptops, tablets and smart phones – has brought significant risk to business operations. Data theft is on the rise and must be addressed.
Come join us as Mitchell Rock, along with a panel of industry experts, discusses:
What is a data breach and how often do they occur? Are you at risk?
How can my data be stolen? An overview of common breaching tactics.
What are the costs of loss? Operational and Reputational.
How can businesses best protect themselves from cyber-attacks? Learn from the experts.
How can you be reimbursed for losses incurred? Can you retrieve your stolen data?
What are your competitors doing about cyber threats? What actions can you take?
Managing Director – Wells Fargo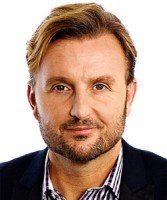 Principal – WithumSmith + Brown
To reserve your seat for the Wells Fargo CyberSecurity Summit, fill out the form below. Join us!