According to research by Ipsos, BigCommerce merchants grow 28% year over year, nearly 2x the industry average.
Your store is always open for business thanks to one of the best uptimes in the industry, including 100% availability during Cyber Week.
BigCommerce is a quarter of the cost of on-premise solutions like Magento, with no hosting, maintenance or update expenses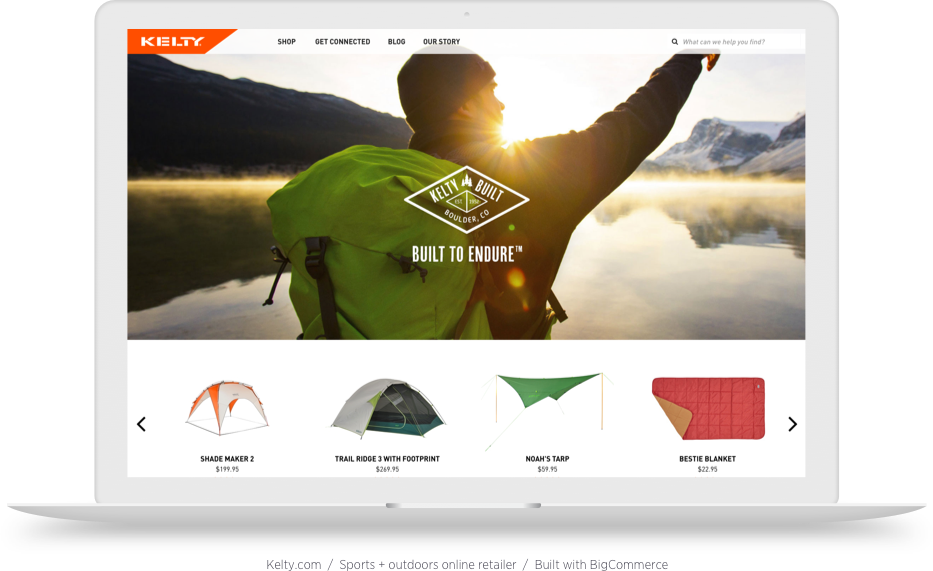 Kirsten Stoddard, Flash Tattoos:
When we launched our collaboration with Beyonce, there was a flood of visits to our website. We couldn't be happier with how we, the BigCommerce team and our website performed under such high stakes.
Paul Yoo, US Patriot Tactical:
Since moving to BigCommerce our site is now faster, the user experience is better and we have achieved a higher search rank — showing up as the number one result in organic listings on Google.
Rita Shelley, SISU Guard:
We used to see less than 1% mobile conversion, and on BigCommerce we're above 10%. Our sales overall have increased 55% after switching because of the look and feel of the site and its functionality.
Everything you need to grow your business
Build the ultimate shopping experience
Our revolutionary design platform lets you create stores that engage shoppers and make more sales. Choose from the best responsive ecommerce templates on the market or build a fully custom site.
Increase sales with the latest features
Best-in-class marketing and conversion tools enable our merchants to grow at 2x the industry average. Drive more traffic, convert more visitors and seamlessly sell on multiple channels from a single location.
Get unparalleled performance
BigCommerce merchants benefit from industry-leading performance and stability, including an average uptime of more than 99.99% and sites that load fast for maximum conversion.
Optimize your ROI
Our cloud-based platform is 1/4 the cost of on-premise solutions like Magento. You'll spend less time managing technology and get regular updates with new, cutting-edge features.
For more information about Big Commerce, Use this form to contact us today!
NYDLA.org members receive special pricing: