Join us in positively impacting the leadership landscape of the world…
The world is missing out. We could all be learning more. Living out our purpose. Leading and being led by people who inspire and enlighten us, give us strength and allow us to grow. Leadercast was built on a belief that the world needs better leaders— Leaders Worth Following.
We believe that leadership is not reserved for those people with a 'C' in their title. We need better leaders in our communities, businesses, organizations, and in homes across the world. Leadercast exists to serve individuals and organizations across all sectors who want to become intentional about raising their standard of leadership.
What We Do
Leadercast is constantly thriving to inspire and equip this community. We cut through the noise and bring realness to the leadership development space. We create innovative events and digital content for time-starved leaders & organizations that allow them to take immediate measurable actions that impact the lives of those they lead.
We're human before we're leaders. Every piece of content we produce is aimed at the human heart. Every single event element we toil over is meant to connect with the ache inside that longs for something greater. We're focused on developing the core of the leader first, believing that the principles that follow will take root, and a Leader Worth Following will be the end result.
Leader Worth Following = Values + Behaviors
We believe that leaders should think and behave differently. A Leader Worth Following embodies a foundation of core values. In addition, they actively demonstrate key leadership behaviors. It is this combination that produces actions that lead to longstanding results and relationships.
How to Engage with Leadercast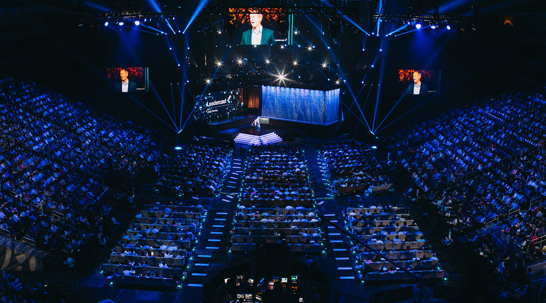 Leadercast Live — Each year, Leadercast facilitates the largest one-day convergence of leaders in the world by creating an epic leadership experience.
Attend live in Atlanta. Georgia.
View an HD simulcast at one of our host sites.
Host your own site. Leadercast happens inside companies such as Apple and Motorola and in communities from Kuwait to Kansas!
View on your own device with Leadercast On Demand
Leadercast Now — Leadercast Now is an online platform created with leadership development in mind. Optimized for mobile or desktop, membership brings 24/7/365 availability of exclusive leadership content to the time-starved leader.
Leadercast Blog — We're communicating about leadership in new ways. Our blog provides insights about leadership from inside Leadercast as well as guest bloggers.