NO PERFECT LOVE
Shattering the Illusion of Flawless Relationships
by Alyson Nerenberg, Psy.D
Perfect couples do not exist; nor do perfect families. Yet in our Photoshopped, Instagrammable world where we only present flawless versions of ourselves, we are easily tricked into believing that they do. Clinical psychologist Dr. Alyson Nerenberg has spent 30 years listening to couples, families, executives, celebrities, and professional athletes and is here to share the truth. Whether we are willing to admit it or not, every one of us experiences challenges in our relationships.
While many books have been written about overcoming our own perfectionism, rarely has one described our tendency to expect perfection from others. How do we cope when our illusions of flawless relationships are shattered? What do we do when we discover extramarital affairs, addiction, financial betrayal, or dishonesty from our partners? What happens when we realize our children are in crisis? In those moments, we have several decisions to make: we can face our loved ones, we can deal with our own vulnerabilities, or we can run.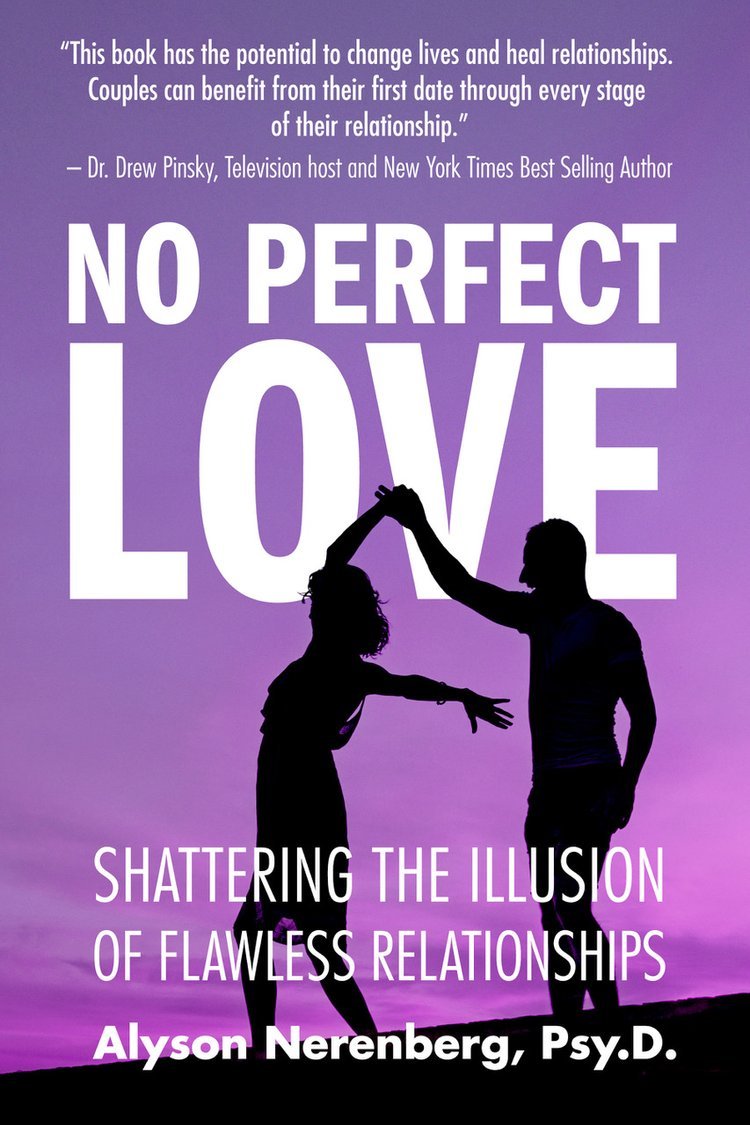 With wisdom and compassion, Dr. Nerenberg thoroughly explores the origins of perfectionism and how it keeps us stuck in a cycle of disappointment, anger, and resentment. Expertly combining psychological theory, popular culture, her patients' life-changing moments, and her own challenges and growth, Dr. Nerenberg transforms trauma into triumph. Through case studies and powerful tools, including 12 clarifying questions that help us decide whether to stay or leave our relationships, she helps us write a new story where we overcome our adversities and find meaning in our heartbreaks.
Dr. Alyson Nerenberg is a licensed psychologist who has been counseling individuals, couples, and groups for the last 30 years. After earning her doctorate in clinical psychology from Widener University in Chester, PA in 1997, she spent 5 years as the clinical director of the Keystone Center Extended Care Unit, a nationally known, residential treatment program for healing from addictive behaviors and trauma. Additionally, she spent 5 years as a board member for the International Institute for Trauma and Addictions Professionals where she headed the supervision committee. She has supervised hundreds of therapists and lectured nationally on various topics including healing from trauma and addictions. Dr. Nerenberg has spent the last 20 years running her private practice, Dr. Alyson Nerenberg Psychology Associates, PC, in Philadelphia, PA. She has been featured on MSNBC, ABC, CBS, FOX, A&E, and CN8. Although she has written chapters in various text books and professional journals, this is her first book. In addition to her professional accomplishments, Dr. Nerenberg is most proud of her family, including her husband, Jeffrey; children Amanda, Marissa, and Justin, and their white fluffy dog, Rosie.
Advance Praise for No Perfect Love
"With No Perfect Love, Dr. Alyson Nerenberg has shattered the myth of "happily ever after," moving couples from Disney princess pipe dreams into the real world, where even the best of relationships is far from perfect. Her no nonsense take on relationships and how to thrive in them, despite their many flaws, is rock solid. My professional experience of Dr. Nerenberg is one of integrity, wit, and insight. This book carries those gifts into useful words of wisdom."
—- Robert Weiss, PhD, author of Out of the Doghouse and Prodependence: The End of Codependency
"No Perfect Love is an incredibly worthwhile book for therapists and the general public, written by one of the leaders in our field who has been involved for over three decades. Dr. Alyson Nerenberg shares "insider information" in terms of what it is like to be a therapist and to be a client. It is a very enjoyable read that makes human the therapy experience so all of us can be helped by realizing that it is a myth that the process always works in some magical way. Dr. Nerenberg is a beacon in the psychology field and her book will help guide anyone struggling with a challenging relationship."
–— Ralph Earle, MDiv, PhD, ABPP, LMFT, CSAT, past president of the American Association for Marriage and Family Therapy, author of Lonely All the Time and Conversations: Therapy and Spiritual Growth
"This book has the potential to change lives and heal relationships. Couples can benefit from their first date through every stage of their relationship." 
—Dr. Drew Pinsky, nationally known doctor, author, and television personality; host of 7 television shows
"If you are hoping to find the perfect love—as so many people are—or are disappointed to realize that your marriage or relationship is not perfect, then No Perfect Love is the perfect book for you! Written in a very engaging style and filled with the stories of many people, and with multiple exercises and suggestions for dealing with your own or your partner's unrealistic expectations, perfectionism, or narcissism, you will find this book extremely helpful. Psychologist Dr. Nerenberg is a very experienced couples therapist and I highly recommend her book."
—Jennifer Schneider, MD, PhD, author of Back from Betrayal: Recovering from the Trauma of Infidelity and Disclosing Secrets.
Paid Members of NYDLA: Email the receipt from your book purchase to AlysonNerenberg@NYDLA.org and we shall credit your NYDLA membership fee one month (a $25 value). Fill out this form to purchase the book from Amazon.