ClickShare. Love meeting
Barco's wireless collaboration room system
When people meet, magic happens
That's what ClickShare is designed to do
The ultimate collaboration experience in just one click
Walk into a meeting room with your laptop and the system automatically wakes up. You're wirelessly connected to the central screen, camera and speakers. In one click you start your meeting. People joining remotely feel as present as the people on site. Your hybrid teams are happy and engaged.
Deep dive into the CX-50 2nd generation
Check what the experts have to say on meeting equity, trends, ecodesign & how revolutionary the CX-50 2nd generation is.
When everyone is clearly heard and seen, whether they work from home or in the office, authentic interactions and productive conversations are guaranteed. ClickShare facilitates collaboration instead of complicating it.
You can use your existing meeting room equipment, laptop and trusted videoconferencing platform. In any type of meeting room. And your guests can join from any device.
Running high-quality meetings from your laptop is as simple as making a phone call. No hassle with control panels, passwords, or cables.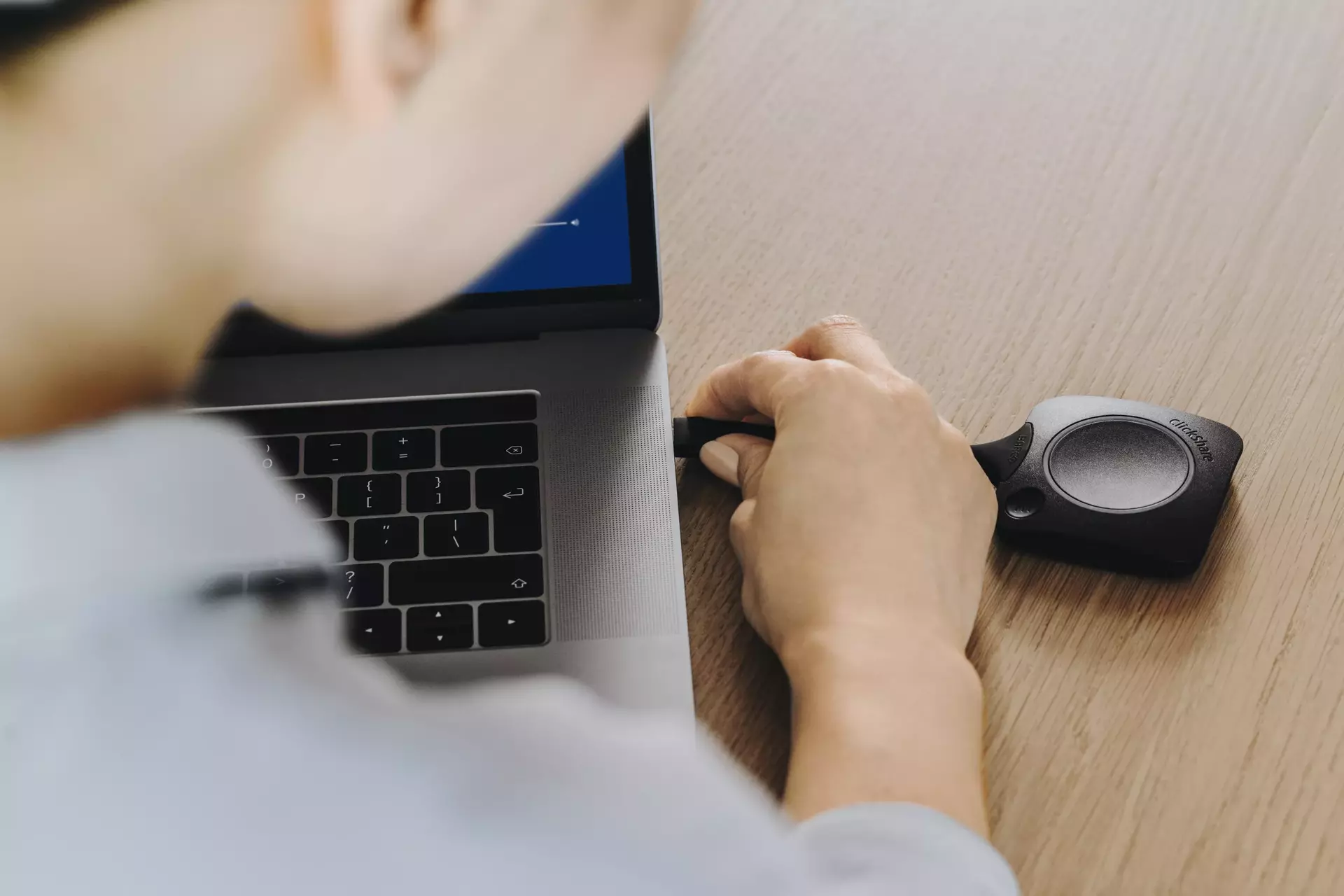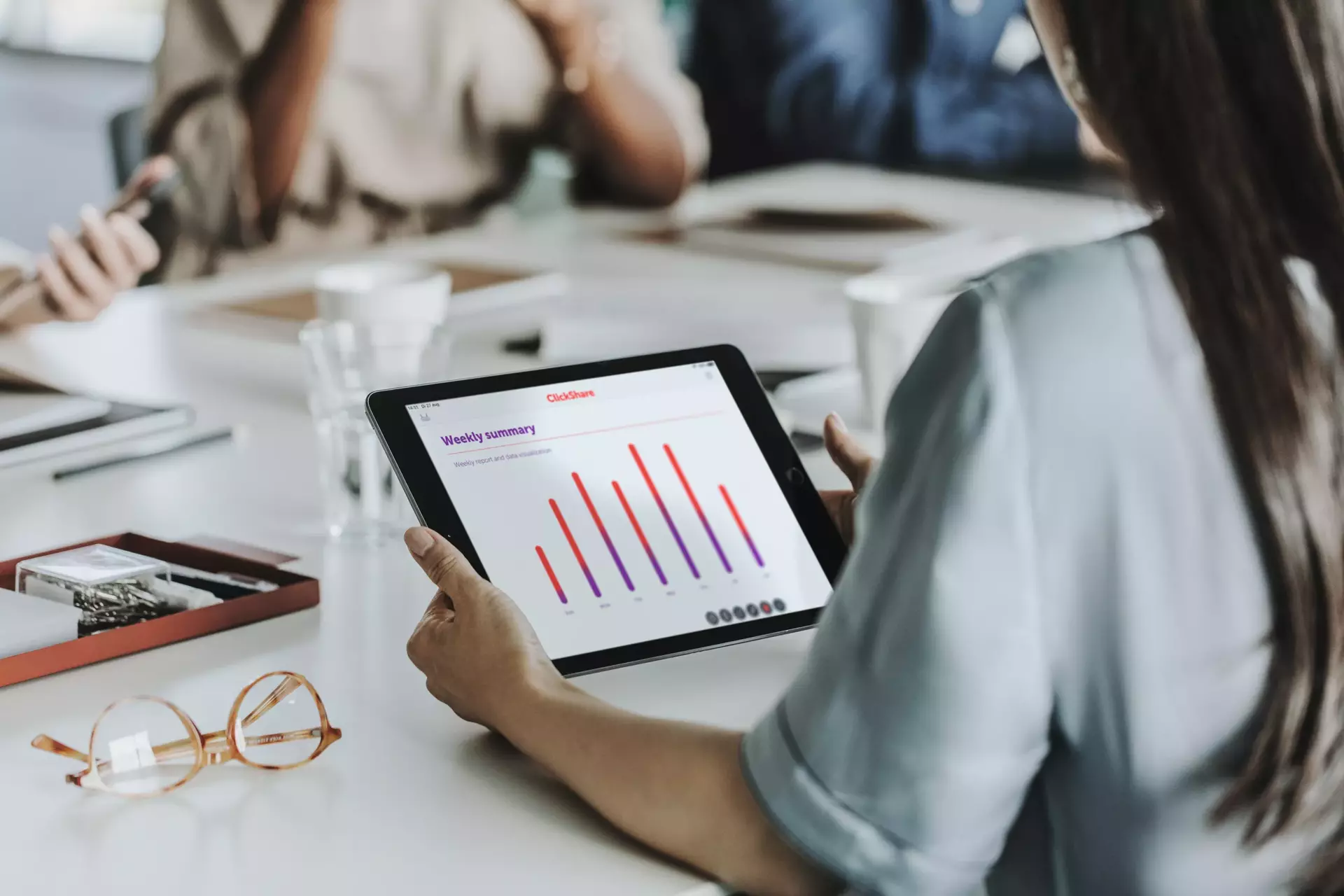 Security, stability, sustainability, and ease of use are built in, so you can enjoy peace of mind in your new hybrid work environment. Regular updates ensure your system is always up to date. How is that for a solid investment?
Unlock the potential of your hybrid workforce
with ClickShare Conference
Run seamless hybrid meetings from your laptop, so everyone, everywhere, loves meeting again.
Wireless conferencing system
ClickShare Conference shares the apps from your laptop wirelessly on the room display and connects them to the camera and speakers in the room for better hybrid meetings.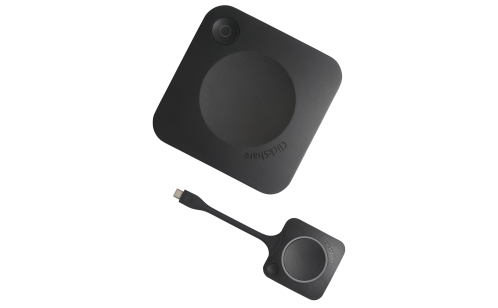 ClickShare CX-20
Transform small meeting rooms and huddle spaces into inspiring conference facilities.
The modern world of enterprise requires smooth collaboration and flexibility, especially when it comes to team meetings in huddle rooms, and this is exactly what Barco ClickShare CX-20 provides. Encouraging creative innovation through seamless wireless conferencing, ClickShare CX-20 can make meetings more inspiring and more productive.
ClickShare CX-30
Seamless, wireless conferencing for small to medium-sized meeting and conference rooms.
For meetings to be as productive as they can possibly be, participants need to feel engaged and inspired. ClickShare CX-30 from Barco offers a seamless wireless conferencing solution that can be used on any device to bring teams together–wherever they are in the world–to participate in inclusive meetings that generate the best ideas and discussion points. Compatible with any PC, laptop or Mac device running Windows, Android or iOS operating systems; ClickShare CX-30 can turn small to medium-sized meeting rooms into innovative meeting and conference facilities.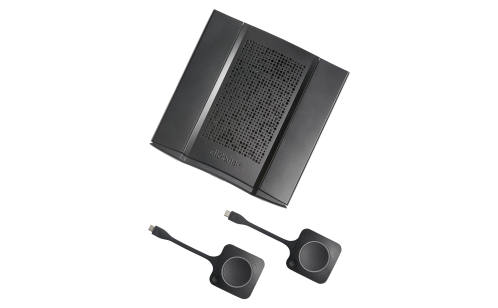 ClickShare CX-50
Bring premium wireless conferencing and remote collaboration to your meeting rooms and boardroom.
Connectivity is the key to success in modern business. In an increasingly interconnected global business environment, you need to ensure that your teams are continually in close collaboration with one another. ClickShare CX-50 is a premium wireless conference system designed to facilitate exactly this, connecting in less than seven seconds and allowing users to participate in completely wireless and productive conferences while also being able to deliver presentations in full HD without hassle caused by cables, connectivity or location.
ClickShare Partner Interview
Watch this ClickShare Partner Interview with Jabra
Wireless Presentation System
Looking for the classic ClickShare? No worries, we offer you a unified sharing experience from huddle to boardroom with the world's leading wireless presentation solution.
ClickShare CS-100 Huddle
Wireless presentation system for huddle spaces
Collaborate better, in small teams. Huddle spaces are creative, flexible, straightforward and intuitive spaces where you bring your own device to share, discuss, interact. Quick and easy.
That is why Barco has developed ClickShare CS-100 Huddle. With this wireless presentation system designed for spontaneous collaboration in huddle spaces, users can simply share what's on their laptop or mobile device, on the presentation screen. No cables, no set-up, no waiting to join in. Focus on what matters.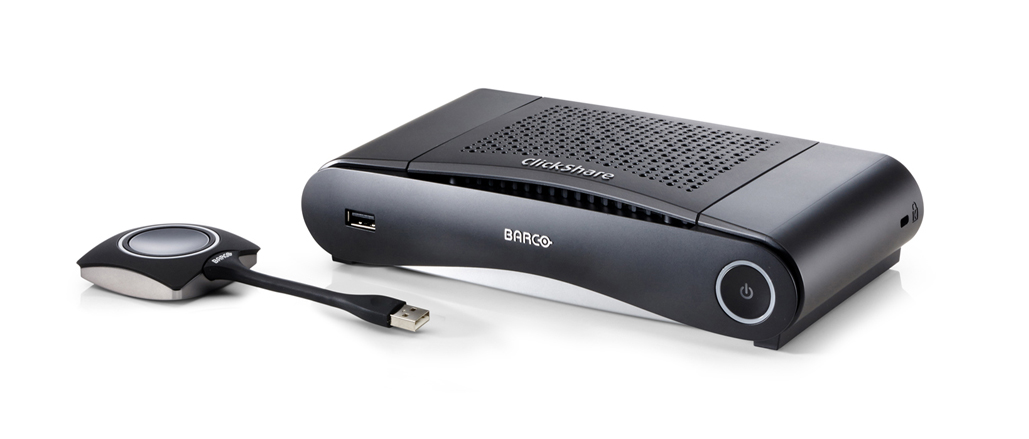 ClickShare CS-100
Stand-alone wireless presentation system for small meeting rooms
Successful meetings are all about confidence. Confidence in the ideas, confidence in the presentations, but also confidence in the meeting room technology. That is why Barco has developed ClickShare. With this wireless presentation system, users can simply share what's on their laptop or mobile device, on the presentation screen. No cables, no set-up, no waiting to join in.
ClickShare CSE-200
Wireless presentation system for small to medium sized meeting rooms
Creativity is one of the core assets of your organization. With ClickShare, you can make sure ideas receive the attention they deserve. This wireless presentation system allows users to simply share what's on their laptop or mobile device, on the presentation screen. No cables, no set-up, no waiting to join in.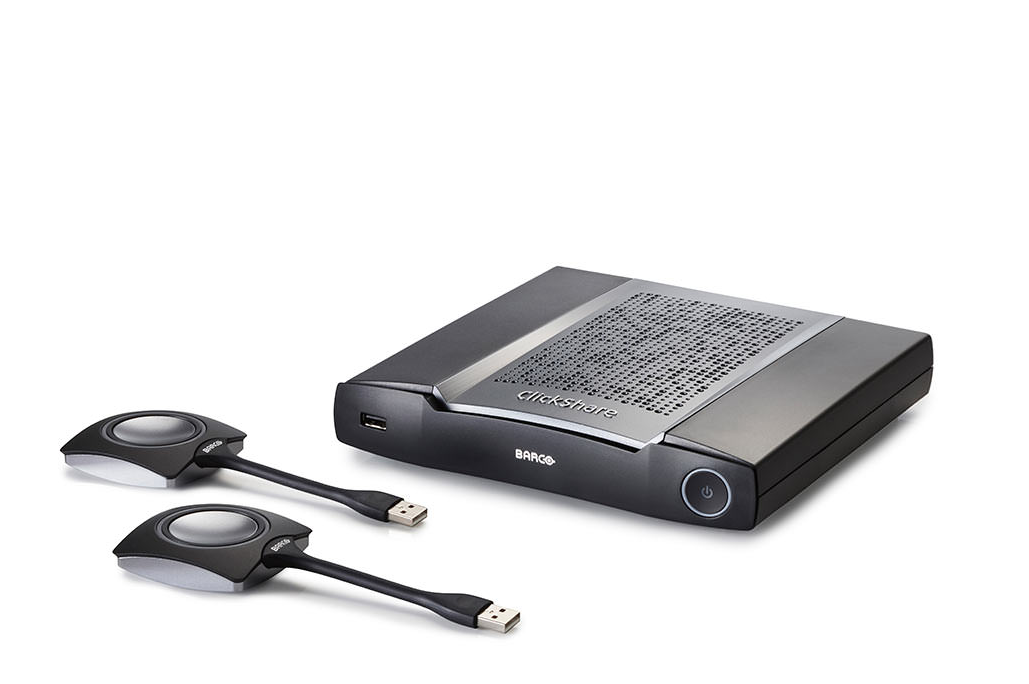 ClickShare CSE-200+
Wireless collaboration solution for creative content-sharing fit for enterprise roll-outs
Creativity boosts businesses. Enabling creative meetings, brainstorms and discussions enhance team collaboration and business outcomes. With the wireless collaboration solution, ClickShare, you bring effortless ideation and efficient collaboration in your enterprise.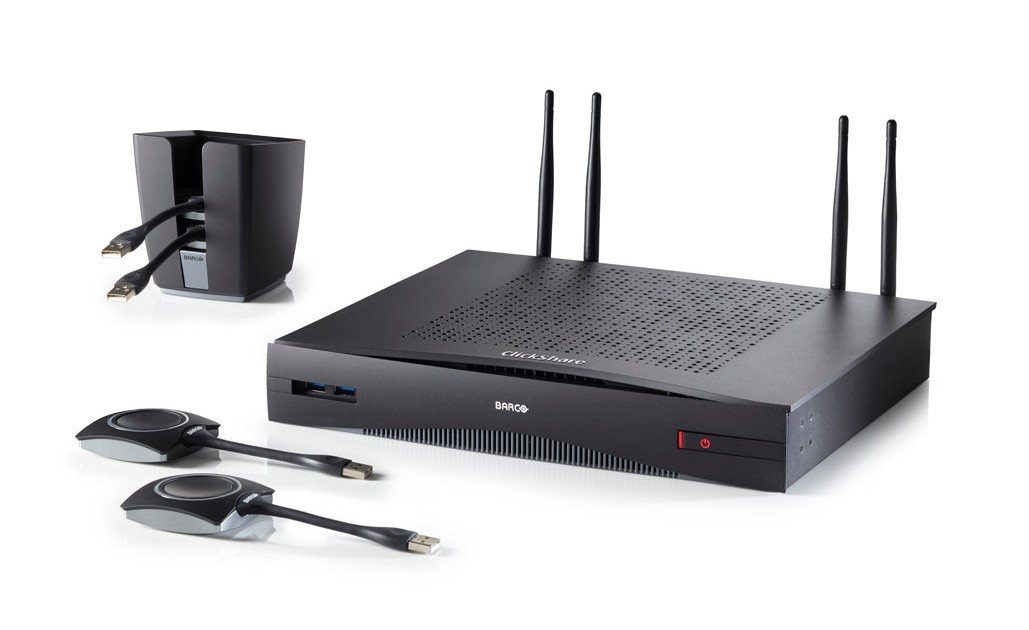 ClickShare CSE-800
Wireless presentation and collaboration system for boardrooms and conference rooms
The CSE-800 was designed to bring the ClickShare experience to boardrooms, high-end meeting rooms, and conference rooms. Introducing a number of unique features, including simultaneous sharing of up to 8 people, automatic & manual moderation, and blackboarding & annotation, the CSE-800 is the most powerful system in the ClickShare family today. The CSE-800 was designed for enterprise rollouts and offers enhanced security features, a wider range of connectivity options – including AirPlay and Google Cast support for non-HDCP content – and central management. Users simply plug a USB-powered device – the ClickShare Button – into their PC or Mac and click the Button to get the content from their laptop on the large meeting room screen. With the ClickShare Apps, users can also share content from their laptops, mobile phones or tablets. Make sure to have the latest firmware installed on your Base Unit to enable the best experience with the Desktop App.
Future of Meetings research, ClickShare.
NYDLA.org members get special pricing on all Barco products and services!
Don't just take our word for it
Today ClickShare is the most popular patented solution on the market. 94% say ClickShare is simple and intuitive to use.
+2M
Buttons used all around the world
45%
of F1000 companies are using ClickShare
44
awards won by ClickShare