Profit From Disruptive Change Now!
The Anticipatory Leader Membership is a results-driven online experience that will quickly help you and your team master the art of anticipatory thinking. 


START TRAINING NOW
What's Included in the Membership
THE ANTICIPATORY LEADER SYSTEM
28 cutting-edge video lessons by Daniel Burrus. Each video is 3-5 minutes long and focuses on a single Anticipatory concept. Our Rapid Application exercises help you put each concept into action immediately!
LIVE ACCESS TO DANIEL BURRUS EACH MONTH
Live monthly access to Daniel Burrus as he leads a private Deep Dive training session with Anticipatory Leader members covering the latest in technology & innovation. By signing up today, you qualify for this amazing bonus!

ANTICIPATORY LEADER CERTIFICATION
Certification provides proof of a serious competitive advantage that even seasoned business leaders lack. This is a powerful tool for leaders, emerging leaders, managers, planners and sales teams.
What's Included in the Membership
"The ability to anticipate complex trends with accuracy is a game changer. With the right anticipatory tools and trends, we can transform an industry and be the leader of a new category."
"The Anticipatory Leader Membership helped me become a better leader, and a trusted advisor for my family, friends, clients, and partners helping transform their mindset from reactive to anticipatory."
"Wow, this was eye-opening and brought more opportunities to my attention. Now, I notice a lot of transformational aspects of how I think and act."
"As a workforce development strategist I find this to be invaluable, I now see so many opportunities!!!"
"After being active as a doctor for decades, I am now designing healthcare businesses in my area. As a new provider of healthcare, I can foresee that without learning to be Anticipatory success will be difficult."
"I consult with organizations that are truly trying to transform now more than ever and this content is helping me to radically shift their view to anticipatory thinking, it has never been more important!"
Experience Daniel
LIVE

Each Month
The only way to get this Deep Dive Webinar™ with access to Daniel Burrus Live is to join The Anticipatory Leader Membership!
 Don't miss the next Strategic Deep Dive scheduled for Tuesday, September 28, 2021 @ 10am PT
"Profit From the Eight Hard Trend Pathways To Innovation"
By acting now, you're invited to Daniel's monthly Strategic Deep Dive™ Webinars. These members-only gatherings are worth thousands when compared against Daniel's private consulting fees. Here are just a few of the upcoming discussion topics:
Accelerate Growth Using Hard Trends
Influence the Future with Soft Trends
Position Your Brand for Today's Transformations
​Use the Law of Opposites to Propel Your Business Forward
Where to Find Amazing Opportunities Others Are Missing
Selling Your Ideas Up: How to Get Your Ideas Approved
How to Become a Positive Disruptor
​The Wisdom of Skipping Your Biggest Problem
• EXCLUSIVE BONUS CONTENT •
INCLUDED IN YOUR MEMBERSHIP
The Hard Trends Industry Report
Top 25 Technology Hard Trends Report
Know What's Next Magazine (5 issues)
TechnoTrends Newsletter (Monthly Subscription)
Easy To Use, Easy To Understand And Apply
You'll be amazed how intuitive our membership platform feels. Our members have found that they get results fast, often way before finishing all of the lessons.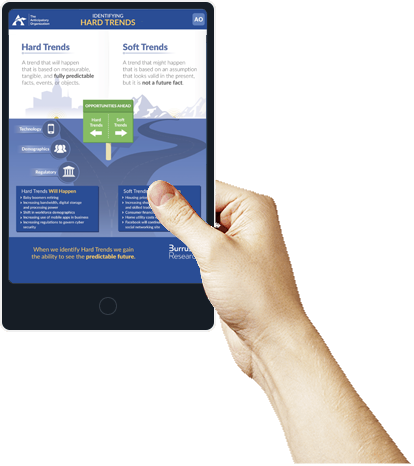 A Message From Daniel Burrus
Right now, you have a choice to make.
You can react to problems and disruptions to your life, your career, and your organization after they happen, or you can tap into this unique learning system that will empower you with the ability to accurately foresee disruptive change and game-changing opportunities and utilize it to actively shape your future and lead your team and your company to greater success and competitive advantage.
If you're truly committed to taking control of your future and making a significant impact now and in the years ahead, tap into the proven wisdom, insights, and processes of the Anticipatory Leader Membership and discover the advantage that will allow you to actively shape a better future for your organization, your team, and yourself!
—Daniel
Daniel Burrus – The Anticipatory Leader
NYDLA Members enjoy SPA (Special Pricing Authorization) for all things Anticipatory Leader