Relative Distance is a powerful memoir of resilience and faith. While it's an unflinching look at brothers being raised by a violent, abusive father and a detached, mentally ill mother, it's also an inspiring account of two distinctive life journeys and an examination of the role played by family and society in individual homelessness.
After surviving his tumultuous upbringing, David Pruitt rises to become a CEO in Corporate America, while his brother, Danny, becomes a long-time homeless traveler. As David helps to grow a fledgling North Carolina business into what is at the time the largest specialty bicycle retailer in the United States, Danny sleeps under overpasses, jumps passing freight cars, lives in and out of shelters, faces death more than once and encounters the best and worst of America in a restless search to find a better place in the world. Yet, despite their differences, a common thread runs through the distinct trajectories of the brothers' lives: each of them struggles with difficult psychological issues stemming from their troubled past.
This deeply moving memoir examines the lifelong challenges that often come for those raised in an abusive home, along with the limitless possibilities we open ourselves to when we allow faith and determination to overcome judgment and fear.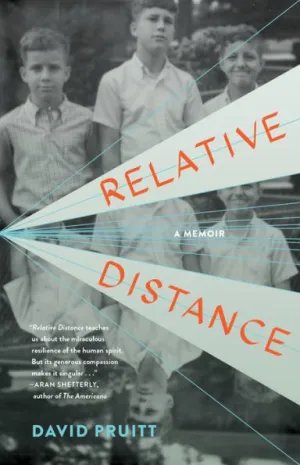 David Pruitt is a first-generation college graduate from UNC-Greensboro and previously served on the advisory board for their Bryan School of Business. As a senior leader in the U.S Bicycle industry, he served on the board of "People for Bikes," a national organization with 1.3 million members that work to make riding a bicycle in America safer, easier to access, and more fun. A licensed CPA and a member of the AICPA and NCACPA, David started his business career in an entry-level accounting position before advancing to first CFO, then CEO, of Performance Bike, for a time the largest cycling retailer in the United States. He is an avid reader, a happily married husband for over thirty years, and a proud father of two successful children. He currently resides in Chapel Hill, North Carolina.
"Uplifting memoir… Pruitt's bootstrapping mentality should appeal to fellow boomers, particularly those of faith."
"First-time author David Pruitt has crafted a stunning memoir that is at once beautifully written, insightful, and thought-provoking. It is storytelling at its very best and a message of hope for all who have traveled a difficult road."
"David Pruitt's brave and beautiful memoir Relative Distance teaches us about the miraculous resilience of the human spirit. But it's the book's generous compassion that makes it singular, offering something to each of us, no matter our circumstances."
"This is both a memoir and an instructional journey about overcoming abuse, building courage, developing determination, finding mentorship in life, and uplifting yourself out of darkness through faith. Written by the CEO of a large bicycle retailer, Pruitt's trade is a fitting metaphor for this compelling story: he develops his personal protective gear, adjusts his speed when approaching bumps in the road, and finally breaks the cycle of abuse while taking the reader on a safe ride towards hope."
"With hundreds of books published each year intending to show its' readers a path to 'self-help,' first-time author David Pruitt's remarkable memoir Relative Distance provides a well-marked alternative passage to personal discovery and growth. Everyone, no matter where they are along life's journey, will find within this superbly crafted narrative, something enlightening and uniquely relevant to their lives—while being touched in ways that are totally unexpected but deeply resonant."
"Powerful! Buy it. Read it. Understand the real roots of homelessness!" 
Paid Members of NYDLA: Email the receipt from your Pre-ordered book purchase to DavidPruitt@NYDLA.org and we shall credit your NYDLA membership fee for one month (a $25 value). Fill out this form to purchase the book from his website.