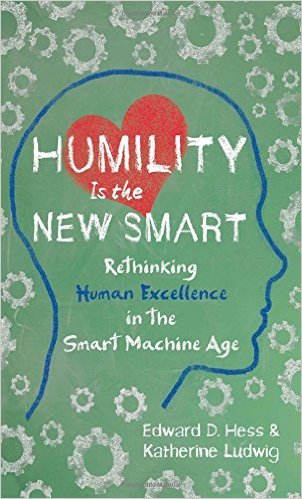 Humility Is the New Smart
Rethinking Human Excellence in the Smart Machine Age
Edward D. Hess & Katherine Ludwig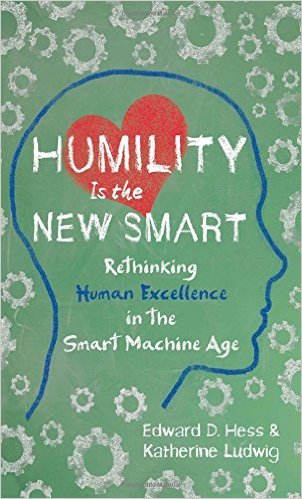 JoinNYDLA.org and receive the book for FREE.
Humility Is the New Smart is a book about human excellence – how human beings can excel at the skills that smart machines and smart robots will not be able to do well in the next few decades. It is our Paul Revere's ride – a call to action – the smart machines are coming and we humans must take our cognitive and emotional skills to a much higher level and this book puts forth a game plan of how to do that.
In Ed's Words…
"This book is the most important book I have written. Why? We are on the leading-edge of a societal transformation that will be as challenging and transformative as the Industrial Revolution was for our ancestors and we as a society and as individuals are not ready for what is fixing to hit us. In the next 10-15 years, technology will take over millions of jobs including professional jobs. To stay relevant, we human beings need to excel at doing those skills that technology won't be able to do well: higher order critical thinking, creativity, innovation and high emotional engagement with other humans.
"We humans will be in a frantic footrace with the smart machines to stay relevant. Based on science and exemplars, we offer a new story about human excellence called NewSmart along with four NewSmart Behaviors that we believe will be necessary to excel at doing the skills that technology can't do well. Our book is a game plan for how you can stay relevant. It is "how to" book – how to take your thinking, listening, relating and collaborating skiils to much higher levels.
"We invite you to join us in the pursuit of the type of human excellence that will be necessary the Smart Machine Age."
Order Humility Is the New Smart: Rethinking Human Excellence in the Smart Machine Age
"I loved this book. Drawing from research on human cognition, the authors explain why all of us are ill-equipped to cope with the coming new smart machine age.  And with research backed ideas, they offer a path forward in the form of 5 NewSmart principles, which are profound and powerful. What the authors have described, beautifully, is the need for profound humility, wonder, curiosity, and appreciation of others.  In short, this is not a book about new technology but rather about new thinking –  the kind of generous thinking that will allow us to thrive in a world in which machines do so many things better than we ever will."
"This book has a very important message that I agree with. That is – new forms of relationships and a more humane attitude toward each other both at work and play will become essential ingredients of a new way of being. Humility, more personal relationships, and collaboration will no longer be options but the key to health, productivity, and a sense of well being."
Edward D. Hess
is a professor of business administration and Batten Executive-in-Residence at the University of Virginia Darden School of Business. His professional experience includes twenty years as a business executive and fifteen years in academia. His research and twelve books have a common theme: how organizations and individuals can be consistent high performers. His work has been featured in over 350 global media outlets.
Katherine Ludwig
is a research, editing, and publishing associate at the University of Virginia Darden School of Business. Previously she was a corporate finance and securities lawyer and associate general counsel for a public technology company.
JoinNYDLA.org and receive the book for FREE!
Uh oh!
Something is wrong with your Wufoo shortcode. If you copy and paste it from the Wufoo Code Manager, you should be golden.