Please Scroll Down and Read This Entire Message
Join us for Fleet Week at the Intrepid Museum as we honor our service men and women with a special lineup of presentations, programs and interactive displays.Enjoy hands-on activities led by the Office of Naval Research and our other military partners.Help us kick off our free Summer Movie Series with a screening of Top Gun and hear from former astronaut and Navy pilot Scott Altman, who served as the flight double for Tom Cruise.
Join us for a special Meet the Pilots, featuring Scott Altman along with Ron Garan and Gregory C. Johnson, talking about their experience flying military jet aircraft, as well as their NASA missions, with moderator Mike Massimino.And be sure to stop by for special displays by NASA, which will be celebrating the 100th anniversary of its precursor, the National Advisory Committee for Aeronautics.U.S. veterans receive free admission to the Museum on Memorial Day, Monday, May 25.
There are many benefits that come with a Membership in the NYDLA!
Welcome AERO Members!
It is with great pleasure that I invite the AERO 2015 conference attendees to join the NYDLA.org for the month of May – for FREE.
The Alternative Education Resource Organization (AERO) was founded in 1989 by Jerry Mintz. AERO's goal is to advance student-driven, learner-centered approaches to education. AERO is the primary hub of communication and support for educational alternatives around the world.
AERO's mission is to help create an educational revolution to make learner-centered education available to everyone.
One of AERO's areas of expertise is democratic process and democratic education, but equally important is the networking of all forms of educational alternatives. AERO provides information, resources and guidance to families, schools and organizations regarding their educational choices. AERO disseminates information internationally on topics such as: homeschooling, public and private alternative schools, and charter schools.
NYDLA.org was created on the foundation of providing a collaboration and procurement portal for delivering knowledge, technology and talent on a global basis. To function successfully as a global society, we need all three of these tenants to work in harmony. Since 1983, I have been involved in the sale, marketing and installation of technology based learning systems (TBLS) around the world – enabling and empowering individuals and organizations regardless of geography or economic status.
During your stay in the tri-state area, we are offering all interested members of AERO a free NYDLA.org membership (normally $25 per month / $250 per year) to join us at our invitation only, members only events in NYC. After your 30 day free trial, we hope that you will see the value and merit of remaining a member in good standing within the NYDLA.org community.
NYDLA.org sponsors such as Google, Microsoft and Polycom are at the heart of the education revolution. As time and your individual schedules permit, AERO members shall be invited to join us as we tour their various headquarters and learn how "technology plus talent" will make learner-centered education available (and meaningful) to everyone in the world. Please fill out the forms below, and your free May NYDLA membership shall be processed for you. You will be invoiced $25 and immediately credited $25, so no charge to you.
Enjoy your time in the Big Apple!
Thomas A. Capone
Executive Director
NYDLA.org
Email: Tom@NYDLA.org
PS.  On Saturday May 23rd at www.liu.edu I shall be giving the luncheon keynote at AERO.  Be ready to meet www.CaptainCumulus.com as we learn how to live, work and play "in the cloud")   Be sure to get your FREEBIES from Microsoft, Google and other NYDLA sponsors while you are at www.liu.edu
There are many benefits that come with a Membership in the NYDLA!
Please Watch This Amazing Video From Polycom!
Single day passes are now available! Click Below To Register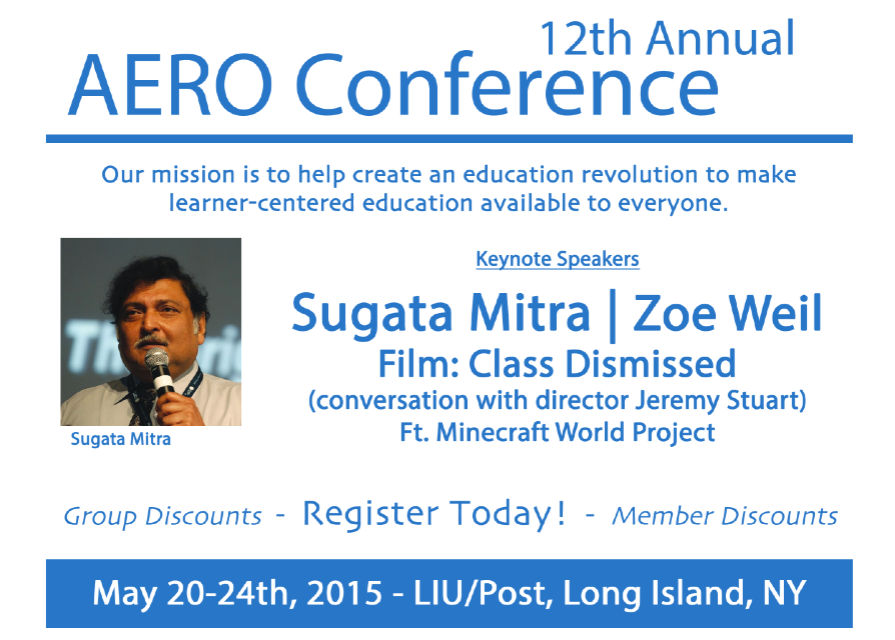 Use Code NYDLA or USDLA to save an additional 10%