PARTNERING WITH CEO'S OF SMB COMPANIES
Presentations and Websites Designed
C-level marketers and professional designer staff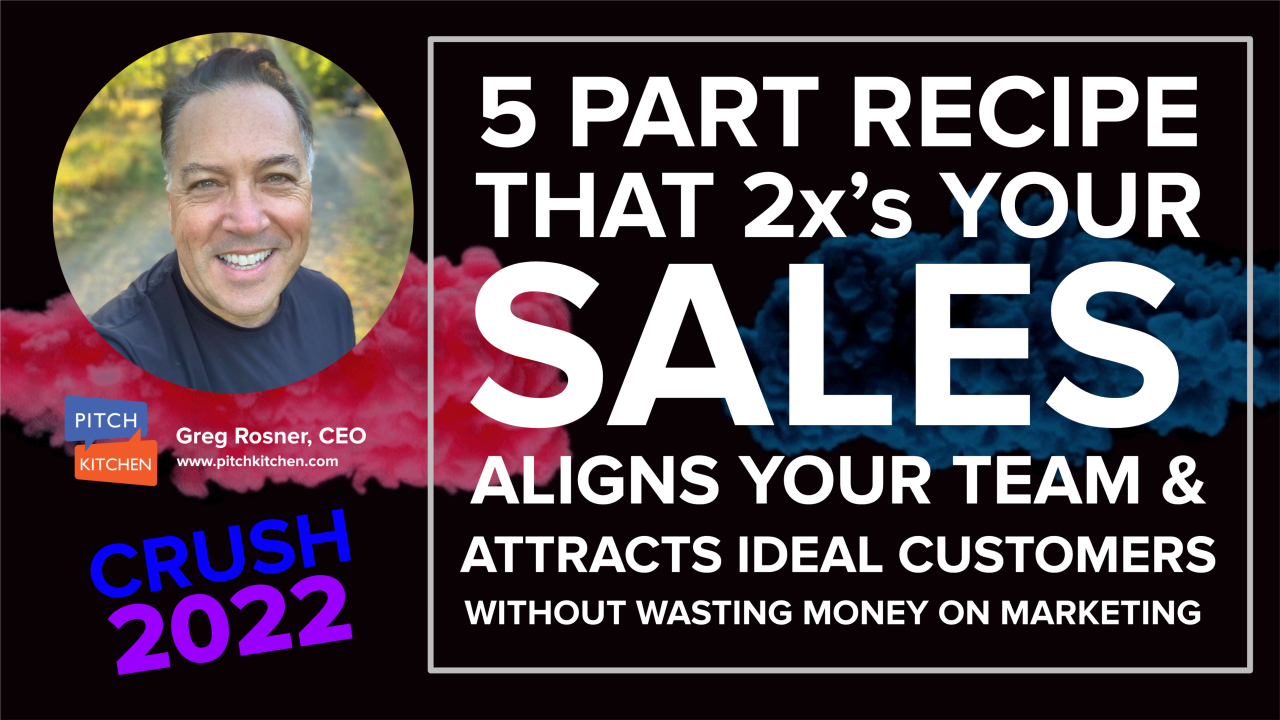 Greg Rosner Presents Pitch Kitchen (NYDLA MEMBER BENEFIT) Event
Make Your Sales Message-Slides-Homepage Irresistible & 2x 2022 Deals
Is your sales messaging, presentation, homepage in love with your solution? Or in love with your customers' problem?
One approach repels customers – the other attracts them.
If you've been trying to implement a recipe for upgrading your marketing and sales efforts, this is the right event for you.
But this is not for everyone. Is this you?
– What you're selling is sophisticated, needs explaining, configuring, demoing, and yet your prospects are telling you they don't get it from your homepage.
– You and your team are doing a lot of demos but losing deals to "not now", "maybe next year", or the worst- "we'll keep doing what we're doing"
– Your solution is different from others in your industry, and you're struggling with how to communicate it, so your ideal customer wants to work with you and are able to sell it to their team.
– You know that finding the "right story" would unleash your ability to reach more customers & make a difference in the businesses of people who need what you sell.
Join this LIVE event to get ahead of 2022 deals by learning the recipe to fix your sales stack so you can attract your ideal customers, deliver unforgettable presentations and close more deals.
1. A step-by-step strategy Smart CxOs use to double their B2B sales even if your solution is complicated, needs configuration, and requires services in order for your customer to be successful using it.
2. How you can simplify and amplify your virtual remote sales presentations even if what you sell is sophisticated, needs a demo, and varies from customer to customer.
3. The secret to turning "NO THANK YOU" to "NO BRAINERs" and how you can stand out from the noise in your market.
4. The real reason why pretty slide decks DO NOT IGNITE your prospective customers to take ANY ACTION
5. How you can facilitate unforgettable sales presentations and demos-that-convert and the secret to turning your salespeople into trusted advisors who are doubling deals.
Join this event and get complete confidence in your marketing and earn the business you deserve.
THIS WEBINAR IS FOR CXO's, Business Owners, Founders, Start-up Execs, who want to give their brand an irresistible makeover while attracting their ideal customer, aligning their team, and increasing their sales. 
About Greg Rosner
PitchKitchen CEO and Founder
After a career in B2B sales, including the experience of seeing how marketing departments fail to provide sales people with the presentations they need, Greg decided to found PitchKitchen to help other CEOs solve the problem he faced. Greg shares his journey into sales from art school, and what the key elements of a successful approach to sales presentation and websites that sell really are.

Greg Rosner is the CEO of Pitch Kitchen and author of Road Warrior Survival Guide. In this discussion, Greg reveals how his extensive history with sales presentations led him to break away from the corporate world and start Pitch Kitchen. Pitch Kitchen helps B2B companies turn bad presentations into a great conversation. You can learn more about Greg Rosner (PitchKitchen) on Linktree,  Linked In, Twitter, Facebook, Crunchbase, and the Pitch Kitchen website.
REGISTER TODAY
NYDLA Members gets VIP access to the Virtual Event.
Fill out the form below to register or send an email to PITCHKITCHEN@NYDLA.org