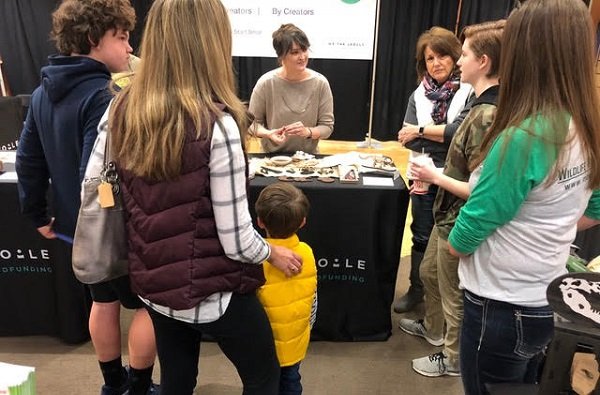 We The People's mission is to help local creators who were successful in crowdfunding launch globally through the FCBC community. To date, we have brought more than 200 brands and more than a thousand products to the public via our brick-and-mortar stores in multiple countries and online.
Past FCBC exhibitors Akeem Shannon, Flipstik CEO, and Hanson Grant, Think Board CEO, sold 1,000 units in one month and broadened their reach to Asia, respectively.
Founded for creators by creators Ryan Sim, Joel Liew, Nison Chan, and CEO Jay Kang, the company provides education, e-commerce, and brick-and-mortar retail space for entrepreneurs. WTP is quickly becoming the hub of innovation in Asia. With its goal to bring together the global creator community, WTP is expanding internationally to Spain, India, Australia, Malaysia, Indonesia, and more.
There is no shortage of entrepreneurial events in NYC. Here's how FCBC is different:
Over 100 of the most successful crowdfunded companies and experts from New York City, surrounding areas, and other regions will meet, exhibit, seek funding and resources, and engage with the FCBC community.
Livefunding will be held during the event–in which anyone has an option to preview, experience, and invest in the products presented / showcased.
5 creators will have an opportunity to do a full pitch to the crowd and seek advice, critiques, or funding.
Space will be provided to showcase creators' products.
Find distribution channels that can help you build an international presence in 3 months.
Our mission and events are designed to help creators because, just like you, we are creators ourselves, too.
The first stop on our FCBC National Tour was Boston. We then promoted creators in St. Louis and during the Consumer Electronics Show (CES) in Las Vegas. This event will draw a curated group of creators and innovators, business leaders and investors from around the world.
We help raise the next generation of innovators to keep US entrepreneurship competitive globally. WTP is proud to support KIPP schools and host FCBC Junior events to inspire creator spirit in the American youth.
Ensuring Success After Crowdfunding
Common Failures of Successful Crowdfunders
Lessons Learned from Building a Product from Scratch
Transitioning from Crowdfunding to Startup Growth
Crowdsourcing and Giving Back to the Community
Kickstarter – Running Advanced Campaigns
Global Expansion and Funding within Your Reach
From Crowdfunding to Global Launching
Registering and Protecting Your Intellectual Property
Nuts and Bolts: Choosing and Working with a Manufacturer
Connecting Startups and Investors via Equity Crowdfunding
Funding Your Growth: Institutional and Beyond
3:00-4:00 p.m. Registration + Networking / Product & Partner Showcase + Funding/ Experience Zone
4:00-6:00 p.m. Featured Speakers / Moderated Panel Discussion with Crowdfunding Creators
6:00-7:00 p.m. Dinner + Networking
7:00-8:00 p.m. Featured Speakers / Moderated Panel Discussion with Industry Experts
8:00-9:00 p.m. Audience Pitch Sessions + Funding
To reserve your seat for the For Creators By Creators, fill out the form below. Join us!

Use code

NYDLA@FCBC2019

for 50% off!

NYDLA Members attend for FREE!
Date And Time
Thu, April 25, 2019
3:00 PM – 9:00 PM EDT
Location
Civic Hall
118 W 22nd St
12th Floor
New York, NY 10011
United States
Date And Time
Thu, April 25, 2019
3:00 PM – 9:00 PM EDT
Location
Civic Hall
118 W 22nd St
12th Floor
New York, NY 10011
United States