Work anywhere
Work isn't somewhere you go, it's something you do. So however (or wherever) you need to work, there's a Jabra product that can help you get the most out of your day. Work from anywhere, because anywhere can work
Request Demo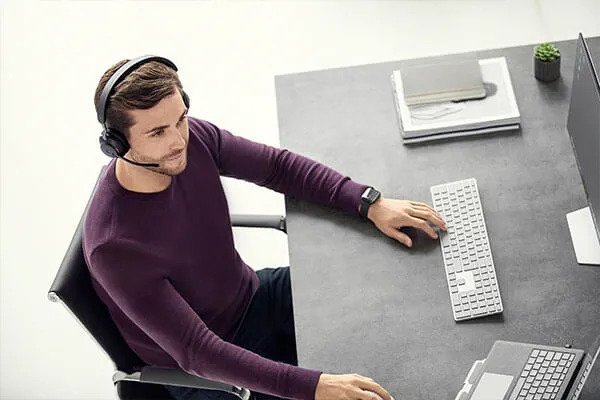 Working from home
When working from home, staying connected is important. Now you can work from home using the world's leading professional headsets for concentration and collaboration* to stay productive the entire day.
Working from home. Re-engineered.
Evolve2 65

Engineered to keep you agile. Outstanding call performance with incredible battery life, 40mm speakers for amazing sound quality, and soft memory foam ear cushions for enhanced all-day comfort. Easy collaboration with UC-certification and available in a Microsoft Teams variant.
Evolve2 40

Engineered to keep you on task. Incredible call performance with powerful leak-tolerant 40mm speakers for amazing sound quality. Jabra Evolve2 40 is a corded headset with an advanced digital chipset and three strategically placed professional microphones, ensuring less background noise on your calls.
Evolve 75

Active noise cancellation and all-day comfort combine with HD voice and compatibility across all major communications platforms to keep you connected and focused from your home office.
Evolve 65
stereo/mono

14 hours of battery and an extended wireless range give you the freedom to leave your desk while on a call. The passive noise cancellation helps keep distractions at bay, while an integrated busy light lets people know when you're on a call.
Working from your smartphone
Thanks to smartphones, you can take your work with you wherever you go — which is why staying connected to your UC platform has never been easier.
Working from your smartphone. Re-engineered.
Evolve2 85

Incredible noise isolation, outstanding calls and industry-leading battery life. Jabra Evolve2 85 comes with an improved busylight for fewer interruptions 10 microphones so you'll always be heard on the go and easy collaboration. Wireless flexibility and a discrete hidden boom arm is ideal for the professional who needs to connect anywhere.
Evolve 75e

Three-microphone technology creates a unique talk zone that makes sure you're heard while other nearby voices are filtered out, while active noise cancellation fuels your concentration and smart controls give you easy access to your calls and music.
Evolve 65e

With up to 8-hours talk time, this comfortable and reliable solution means you'll never miss a call. Easy connectivity to your smartphone gives you all day availability and it's certified for UC, meaning it has never been easier to collaborate, wherever you are.
Evolve 65t

Professional-grade sound in true wireless earbuds that let you connect with two devices at the same time means you will never miss a call, regardless of where it comes from.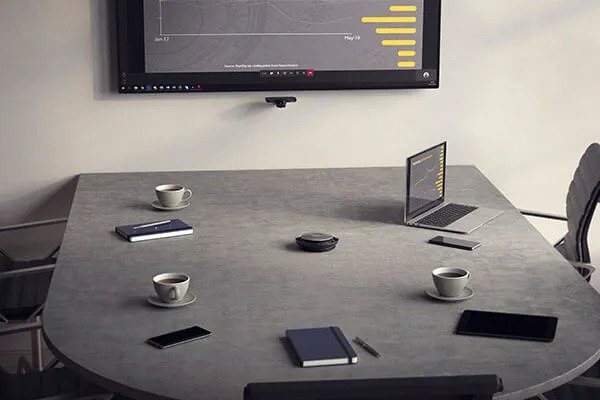 Meet Anywhere
Staying connected has never been easier with intelligent, industry-leading audio and video solutions to boost collaboration no matter where you or your team is.
Panacast

A plug-and-play video solution, designed to improve meetings by using 3 cameras and real-time video stitching to give a full panoramic-4K 180° view of the room. Works with all leading communications platforms, everywhere.
Speak 750

Power your meetings with seamless, premium audio. With full duplex sound for more natural conversations, UC certification & plug-and-play capability, you get maximum flexibility for your meetings, anywhere.
Speak 710

An omni-directional microphone with 360-degree pick-up allows you to be heard from anywhere in your workspace, while the portable design gives you the flexibility to take calls anywhere.
Engineered to be the first new-normal-ready intelligent video bar.
The first new-normal-ready intelligent video bar
In a world where we're more physically separated than ever, you need great audio and great video for your remote meetings. But you also need to make your offices and collaboration spaces safer for everyone who uses them.
​With our industry-leading professional audio, advanced and innovative 180° video technology and a range of unique intelligence-driven features, PanaCast 50 gives you the power to put safe, socially distanced meetings back on the table – whatever your 'new normal' looks like.
​We've reinvented collaboration for the new normal.
Hear and be heard, naturally.
Meetings flow better when everyone can communicate clearly. Our advanced beamforming technology maximizes the signal-to-noise ratio for crystal-clear voices, anywhere in the room.
And with full duplex technology, everyone can contribute to the conversation in real time. So those verbal cues that are so integral to face-to-face conversations will never go unheard.
Outstanding 180° Video. All In.
In addition to our world-leading audio, we've gone all-in on inclusive video that keeps everyone, well… all in. Three 13-megapixel cameras, mounted in a high-precision, multi-camera array, cover every part of the room.
​Jabra has gone all-in on getting you all in.
Jabra PanaCast
The world's first intelligent 180° Panoramic-4K plug-and-play video solution.
Compatible with all leading video and audio-conferencing solutions.
Certified by Microsoft and Zoom. Works with Teams, Zoom Rooms, Cisco Webex, BlueJeans, Skype and many more.
Future-proof your office and meeting spaces
Now any room can be used for video conferencing while keeping a safe distance. Jabra PanaCast offers a full 180° field of view picture, and plug-and-play technology, which allows for easy transition from home to office – whenever that time might come.
Seeing is believing – Experience Jabra PanaCast by scheduling an online demo with one of our video experts.
NYDLA Paid Members receive SPA pricing on all things Jabra!
Fill out the form below for more information or email us Jabra@NYDLA.org