From medical expert Leana Wen, MD, Lifelines is an insider's account of public health and its crucial role―from opioid addiction to global pandemic―and an inspiring story of her journey from struggling immigrant to being one of Time's 100 Most Influential People.
"Public health saved your life today―you just don't know it," is a phrase that Dr. Leana Wen likes to use. You don't know it because good public health is invisible. It becomes visible only in its absence, when it is underfunded and ignored, a bitter truth laid bare as never before by the devastation of COVID-19.
Leana Wen―emergency physician, former Baltimore health commissioner, CNN medical analyst, and Washington Post contributing columnist―has lived on the front lines of public health, leading the fight against the opioid epidemic, outbreaks of infectious disease, maternal and infant mortality, and COVID-19 disinformation. Here, in gripping detail, Wen lays bare the lifesaving work of public health and its innovative approach to social ills, treating gun violence as a contagious disease, for example, and racism as a threat to health.
Wen also tells her own uniquely American story: an immigrant from China, she and her family received food stamps and were at times homeless despite her parents working multiple jobs. That child went on to attend college at thirteen, become a Rhodes scholar, and turn to public health as the way to make a difference in the country that had offered her such possibilities.
Ultimately, she insists, it is public health that ensures citizens are not robbed of decades of life, and that where children live does not determine whether they live.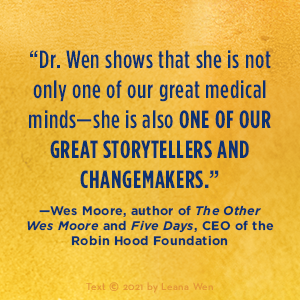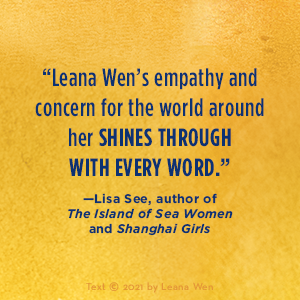 "Leana Wen's book about her journey into the world of public health is a moving eye-opener. We follow her as she delves into the lives of the citizens that she hopes to protect; we endure her frustrations and rejoice in her victories. This book is ultimately about transformation― and Wen's own journey is a metaphor for the long-awaited transformation of public health in America. This is a must-read from one of our finest medical writers."
"With its brave candor and clarity, this book is for people who might not know all the ways in which public health has saved their lives, but they will once they've read Lifelines. It is also for all the people who do know the importance of investing in public health, of prevention and treating everyone with dignity, and who want to learn how Leana Wen has accomplished this throughout her career as a doctor, public servant, and writer."
"In this powerful book, Dr. Wen tells the compelling story of her journey to a career in medicine while giving a crash course in the nuts and bolts of policy and politics. Along the way, her writing will turn any reader into a believer in the power of public health and an advocate for getting off the benches and into the trenches."
"Captivating, inspiring, and refreshingly honest, Lifelines takes you on an unforgettable journey to understand the power of public health to transform society. Dr. Wen's hopeful and wise account is a reminder of why she has quickly become one of America's most important physician leaders."
Paid Members of NYDLA: Email the receipt from your book purchase to DrLeanaWen@NYDLA.org and we shall credit your NYDLA membership fee one month (a $25 value). Fill out this form to purchase the book from Amazon.