PROSTATE CANCER: SHEEP OR WOLF
by Murray Keith Wadsworth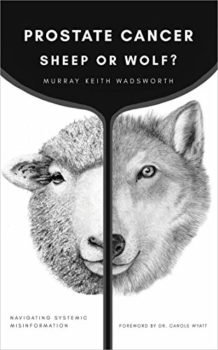 Prostate Cancer: Sheep or Wolf? reveals the challenges men face with this disease through the shocking stories of Murray Wadsworth and four other men. In an easy to read style, Wadsworth shares his experiences with established diagnostic and treatment methods in the United States and innovations he benefited from in Europe, including medical consultations in England, advanced imaging in the Netherlands and salvage lymph node surgery in Belgium.
A man facing unfavorable screening results may in fact not have cancer, as Andrew came to find out. At the opposite extreme a man's cancer may have been undetected until it was too late, so only palliative care was warranted, as Joe faced. Or the cancer may not warrant treatment for a variety of reasons, such as apparent low risk, so medically supervised monitoring is the strategy, as for Peter. On the other hand, the cancer threat may warrant treatment, despite the reality of serious and permanent side effects. But as for George, who now wears man diapers for his incontinence, he did not know how serious his cancer threat was. He just knew he had prostate cancer and was afraid of it.
Medically reviewed and professionally edited, Wadsworth's book reveals just how far behind prostate cancer diagnosis and treatment is in the U.S.—although the book was written four years ago, the tests he benefited from in Europe are only just becoming popular among physicians in America. Wadsworth also shares personal and family aspects of his journey, humor and parallels to his RV experiences.
Despite years of early screening in the United States, Murray Wadsworth's prostate cancer was not detected until he was seen by a urologist in London, England, where he was living and working at the time. Soon after, he traveled home to Austin, Texas, to see his long-established urologist, but Wadsworth turned down the recommendation for immediate surgery. Instead, he returned to London to investigate screening methods not yet available in the U.S. While striving to understand why his diligent efforts failed, Wadsworth was shocked by the considerable disparities between the U.S. and international medical communities regarding diagnostic and treatment methods of prostate cancer. He found himself becoming his own patient-detective, patient-scientist, and strong self-advocate.
Following his first treatment in January 2016, Murray embraced life to the fullest, traveling throughout the Rocky Mountains in an RV while researching anticipated additional treatments. That December, Wadsworth tried his second curative attempt, salvage radiotherapy, before embarking on another season in the RV. Before his third RV, Wasdworth's self-directed efforts took him back to Europe for even better imaging and surgery options unavailable in the U.S. Following the success of this third treatment in 2019, he found a new life purpose: sharing his experiences in his book Prostate Cancer: Sheep or Wolf? Navigating Systemic Misinformation. From campfire talks to book signings – and an increasing number of prostate cancer support groups – Wadsworth is helping men navigate this rarely-discussed yet deadly disease, sometimes one man at a time.
Today, in his seventh RV season and when many men might consider themselves cured, Wadsworth's is to dive deep into determining whether any pesky cancer cells linger as well as what can be done to eradicate them. His self-directed efforts include graphing his monthly blood test results and two comparative imaging methods that are now available in the US. Murray had one of these imaging tests in Europe nearly five years ago.
" A fascinating journey through the complexities of US healthcare, insurance, and prostate cancer. Where screening is discouraged and treatment options all come with unacceptable side effects. Well researched, but easy to read. As a survivor and physician, I could appreciate both sides of Murray's dilemma."
"Today, buffeted by hard marketing, hype and misleading guidance, a diagnosis of prostate cancer is one of toughest life events many men will face. Neither promoting or demonising any particular approach, this thoroughly-researched and referenced book will be a valuable resource for men, whether they are at the point of considering screening or have already received a diagnosis of prostate cancer. However, Wadsworth's engaging narrative style and use of charming illustrations makes it a delight to read."
"Mr. Wadsworth has written a very personal account of his ongoing battle with Prostate cancer. Although not a treatise on treatment of Prostate cancer it does contain and demonstrate several actions that I, as a Physician treating various cancers, feel are important to all patients. All cancers and all cancer patients are unique but this book does provide examples of how to accept and deal with a cancer diagnosis sadly common to many men."
"The diagnosis of prostate cancer is a frightening one. Even as a health care provider, it is difficult to keep up with the ever-changing research and recommendations for diagnosis and management of this all too common disease. Prostate Cancer: Sheep or Wolf? does a fabulous job of discussing both the mainstream and the cutting-edge options, and will be immensely helpful to many men as they investigate the alternatives."
"This is not only a very informative book, but is also exceptionally easy to read – I completed it in one sitting. The author has illustrated the minefield that is the management of intermediate risk prostate cancer. This book is a must-read for those worried about their PSA result and for those who have recently been diagnosed with prostate cancer."
Paid Members of NYDLA: Email the receipt from your book purchase to MurrayWadsworth@NYDLA.org and we shall credit your NYDLA membership fee for one month (a $25 value). Fill out this form to purchase the book from his website.