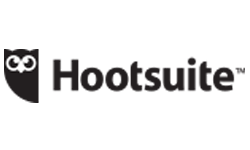 Hootsuite is a social media dashboard where you can keep track of and work on multiple social media platforms all in one concise dashboard. Here you can schedule and manage social media platforms, without having to login to each social media account that you are working on.
The favorite part of Hootsuite is setting up the different "streams", or information that you want to see in each social media dashboard. When you set up a new client in Hootsuite, you want to break the social media platform down into different "streams" or information. One stream of information will be the people that you are following through that social media account. Next to that stream you usually set up a "Mentions" stream so that you can see who has mentioned my client on social media, and then respond accordingly. The stream after that is usually keywords that are important to that client. This way you can check in on other companies that are using that keyword. Then finally a stream of scheduled posts for the upcoming week. Streams can be created and used in so many different ways depending on what you need for your client's account.
If you are looking for a way to start delving deeper into your client's social media, Hootsuite streams is the fastest and easiest way to get started.

How Much Does It Cost?
Here is the great news about Hootsuite, you can run up to 3 social media profiles for free! Now this free version does not give you all of the bells and whistles that a higher plan has, but it is a great way to dip your toes into Hootsuite and see if you like the basic layout.
6 things you need to know about Hootsuite:
Hootsuite can help you save time. If you've had trouble keeping up with your social media accounts, Hootsuite can help. Instead of logging into multiple accounts and updating multiple pages, you can log into the Hootsuite dashboard to schedule posts and updates. This leaves you more time to do other things.
Hootsuite can help you with monitoring. If you want to monitor mentions of your brand, your competition or industry specifics, you can use Hootsuite to do it.
Hootsuite can make communicating with your team much easier. You don't have to leave your dashboard and go to another site, send an email, call a meeting, or pick up the phone to communicate with your team. Instead, you can use Hootsuite Conversations right from your dashboard to collaborate with members of your team, everyone in your office, or your entire company. Add anyone you want to your conversation.
Hootsuite can help you monitor the results you get from social media efforts. This is very important, as you need to know what is working and what isn't, so you can strategize and make the smartest moves going forward. Hootsuite can help you monitor such things as page views, likes, followers, comments, referrers and link popularity. If you need to check bounce rates, shares, and daily growth data, this tool will provide that as well. It will even allow you to analyze your fans based on such characteristics as gender, language and region.
Hootsuite makes it easy to manage complex publishing plans. You can use it to publish targeted messages to different portions of your network, cross-post messages across various accounts, publish to a single social media platform, reblog content, and more.
Hootsuite makes it easy to delegate. As your social media empire grows, it may get harder for you to manage it on your own. You can use Hootsuite to delegate certain tasks, including responding to comments and posts, to other members of your social media team. All your team member has to do is log on to see which tasks you have assigned to him.
For more information, email info@nydla.org or fill out the form below!
[wp-highrise-contact]