Secure your valuable PDF documents without hassling your readers.
Protect your revenue and property by securing documents
Control reader access, expire, and track usage
Send secure PDFs to any device
Sharing? No problem, security goes with file
Keep readers happy, nothing to download
Integrate with your current systems
 Protectedpdf's Top 7 New Features:

1. Hardened security
All hosted Standard, Pro and Enterprise customers will now have AES 128-bit encryption; MITM1 attack prevention; Replay2 attack prevention, and more complex one-time password protection used to seal secured documents. Enterprise customers with installed solutions will be able to take advantage of these improvements when they update their Protectedpdf® Enterprise Server.

2. Fresh and Faster Interface
A newly designed administrative interface for Standard customers modernizes, simplifies and streamlines the tool making it much more intuitive and useful for Protectedpdf® administrators. The new release also includes a setup wizard to help customers get up and running with the new interface quickly. Hosted Pro and Enterprise customers will require a service engagement to integrate this feature.
In addition, the admin portal for hosted Protectedpdf® customers will move from a Silverlight-based user interface to HTML. Customers will see an improvement in speed, including loading and processing times. Pro and Enterprise customers will be able to access these features with a service engagement from Vitrium.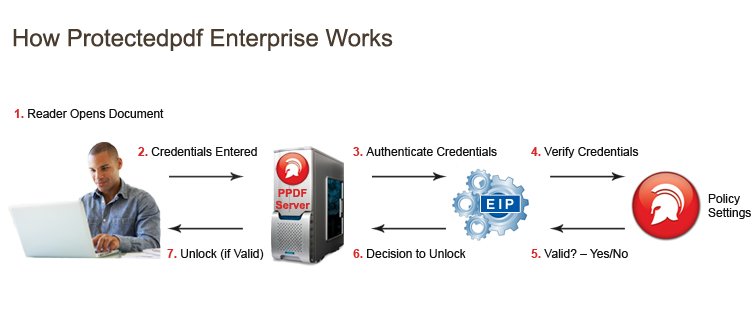 3. Improved API
With the new release, Vitrium is bringing the Protectedpdf® API into alignment with best practices in API development using the RESTful development architecture. Pro and Enterprise customers can have integration up and running in minutes and will notice a simplified, intuitive and clean API interface.
5. New "Social DRM"
All customers will now have the option to choose "Social DRM", a lightweight DRM solution that simply seals the document with a true watermark (transparent and/or diagonal) that needs no passwords or logins to open! This new feature is an answer to many Vitrium customer requests to have robust DRM for some documents,
and a totally hassle-free reader experience for other documents.

6. Web Viewer Bookmark Support
The web viewer will now display bookmarks from the original PDF, and show these bookmarks in the toolbar. Users will be able to use these bookmarks to click to various sections in the document, making it easier to navigate long complex PDF documents.

7. DRM Customizable Policy Templates
Administrators now can apply custom policy templates at the document level. This will make it much easier for document owners to save common settings as a template and apply them to new documents as they are sealed. Admins can store as many templates as they like and apply them to any applicable document.
Vitrium continues to listen and respond to customer needs to add functionality and usefulness to it's document security solution.
---
Access Anywhere. These days readers want access on all of their devices. That's why we've made sure Protectedpdf documents are distributed and accessible to all your users at any time, no matter what they use – desktop, laptop, tablet or smartphone.
No Plug-ins or Downloads. Protectedpdf is designed to be seamless and hassle-free! It'll work with the programs and methods your readers already use, like Adobe Reader for viewing PDFs on a desktop, or any modern web browser for viewing documents on tablets or other mobile devices.
Protect Any PDF Document. Use Protectedpdf to secure your eBooks, textbooks, educational or other course materials, research reports, financial statements, investment proposals, case studies, white papers, sales sheets, design specs, and much more. Any PDF document can be secured and managed via our customizable administrative interface
Control Documents. Let's face it, controlling access is a lot like wrangling cats. Easily control how your documents are distributed by setting different reader access permissions and utilizing powerful DRM features like password control, copy and print control, shredding (digital expiry), device limits, true watermarking and more.
Protection on the move. Whether synched to a device, shared off the network onto an unsecured platform, or found on a lost or stolen device, you can rest assured that Protectedpdf will protect your documents from prying eyes no matter where they are.
Need Customization and Integration? Does your organization have a CRM, ERP, LMS or other system you would like to integrate with? No problem. With our RESTful API framework, Protectedpdf hooks up with your back-end or front-end systems and will seamlessly mesh with your overall document workflow processes.
---
Why Adobe Acrobat's Password Security Isn't Enough
High Volume of Documents and Readers
If you have a large number of documents to protect, protecting them one at a time can be cumbersome. A good DRM system, such as Protectedpdf®, gives you the ability to batch process many documents at once. Companies with larger reader volumes also have the same issue with assigning readers individually to documents, and a good DRM system can batch assign reader groups to documents.
User/Reader Control
Once a user has the document and password using Adobe Acrobat, they can open it on any number of computers. A DRM system like Protectedpdf® can control the number of computers the document can be opened on. This is useful to prevent password sharing.
Document Control
In Adobe Acrobat, once the user has the document and the password, they can open it anytime in the future. There is no ability to take away access when you feel like it, or on a certain date. With a good DRM solution you have the ability to do the above, such as revoke a document at any time, and set a time for the document to automatically expire.
Tracking/Audit Log
Many companies find it useful to know when and by whom a document has been accessed. Adobe Acrobat cannot track when or by whom the document was accessed, whereas a DRM system, like Protectedpdf®, gives you this ability.
Secure Web Link
Adobe Acrobat doesn't offer this feature. Protectedpdf® documents can be secured and sent via a web link that makes it possible for the document to be accessed by any modern device using a browser. This provides an easy and seamless viewing experience for readers who, more and more, desire to open their documents on any device.
Watermarking
A watermark is usually a graphic or mark embedded into a document to demonstrate copyright ownership. In Adobe Acrobat, the watermark is static and cannot be changed without creating multiple copies of a document. With Protectedpdf®, you can embed the user's name or identity into the document as a watermark.
For more information, email info@nydla.org or fill out the form below!
[wp-highrise-contact]