Transform your business for FREE. Sign up for ZipZap today and get one month of service and 100 minutes free of charge. After that continue using the world's most revolutionary business phone system for a low as $25/mo.
We're so confident you'll love ZipZap that we offer not only a FREE trial, but also a money-back guarantee. If you can find any business phone system less expensive than ZipZap, we'll refund the difference. It's that simple, and it's guaranteed.
ZipZap pricing is simple so you can focus on running your business – no fuss, no surprises. ZipZap starts at $25/month per user with annual payments, or $30/month per user with monthly payments. See our terms of service below for more info.
ZipZap is the world's first cloud based, multi-user, gesture driven, full office phone system available for iPad.
ZipZap's simple 'tap and swipe' action allows users to make and receive phone calls, conference calls, and business grade SMS text messaging with ease.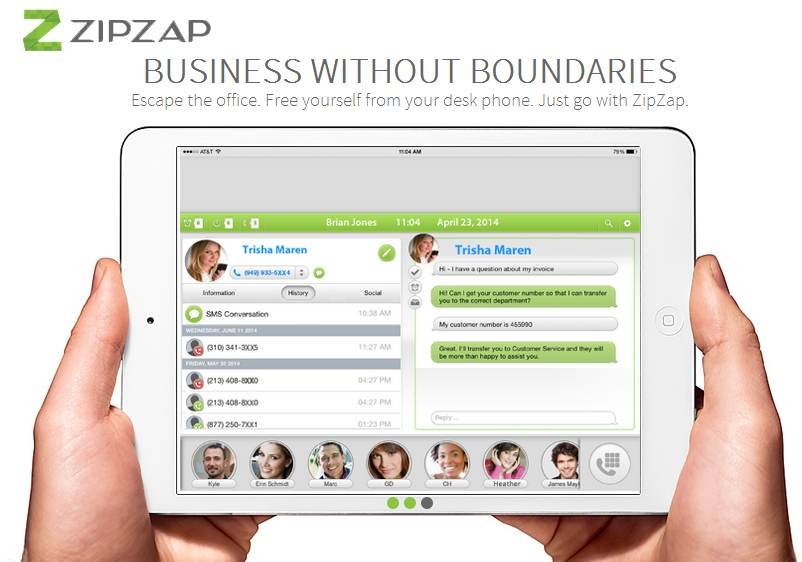 Here are some additional features that make Zip Zap the phone redesigned for your modern business:
Easy call transfer: simply drag and drop incoming calls to anyone in your organization
Never miss a call: incoming calls ring on multiple iPads at the same time, even if they are in different locations
Detailed call history: All calls and voice mails are archived and easy to access
Easy conference calling: simply drag and drop callers onto an active voice call
Use one local number to send/receive SMS Text and voice communication
Easy SMS Text transfer: simply drag and drop the conversation to anyone in your organization
Receive faxes and display them on your iPad: Note that fax service requires a separate phone number
Social integration: Instantly view a callers Twitter and Facebook postings (LinkedIn coming soon)
For more information, email info@nydla.org or fill out the form below!
[wp-highrise-contact]