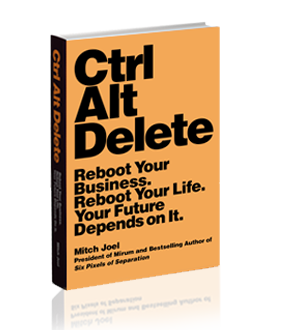 The transition of all industries into the fully-digital future leaves everybody caught in a middle ground – it's not heaven, it's not hell, and it's very confusing. Businesses and employees are not sure where things are headed or what they must do to survive and thrive.
In short, this is a time of purgatory.
In CTRL ALT Delete, Mitch Joel provides a roadmap for business and professional success through this purgatory. It explains the convergence of five movements that will change business forever, identifies seven triggers that will help individuals take advantage of those movements, and shows all readers how to make the necessary reboot – in effect, how to CTRL ALT Delete.
This is not a book about "change management," but about "change business models."
Divided into two sections (Reboot: Business and Reboot: You), CTRL ALT Delete explains five key movements, with examples from companies that are successfully making the right shifts, and also shows how individuals can move from just doing a job to doing the work that they were meant to do.
While Mitch's first book, Six Pixels of Separation, was about how (and why) new media had changed business forever, CTRL ALT Delete answers the question "now what?"; Now that everyone is on social networks, sharing and conversing, how do you pivot your business to capitalize on just how much our world has changed, and get the edge on where all of this is taking us?
CTRL ALT Delete will help you navigate out of our business purgatory.
Reboot Your Business. Reboot Your Life. Your Future Depends on it.
MEET MITCH JOEL
CTRL ALT DELETE
Reboot Your Business. Reboot Your Life. Your Future Depends on it.
Mitch Joel is Co-Founder of ThinkersOne – a platform that empowers companies with personalized and bite-sized thought leadership from the best Thinkers in the world.
He has been called a visionary, digital expert and community leader. He is also an entrepreneur, investor, author, trusted advisor, chronic reader and passionate speaker who connects with people worldwide by sharing his insights on business transformation, innovation and marketing. He was awarded the highly prestigious Top 40 Under 40.
Mitch Joel has been called "one of North America's leading visionaries" by Strategy Magazine, but he is much more than that…
"Too many brands, in their frantic effort to fashion a new business strategy, fail to build meaningful relationships with the customers they serve. Even fewer understand the new business landscape as it is (not as it once was). They need to listen to Mitch Joel. CTRL ALT DELETE is a wise and practical road map that can help you navigate today's challenging economic, social, physical, and digital landscape."
"In CTRL ALT DELETE, Mitch Joel surveys the ways technology has transformed how brands and businesses create, connect, and adapt to a shifting new landscape. This book–and especially the five new movements he identifies that are forcing brands to reboot–is an indispensable read for a time when so much is in transition."
"In a world filled with broken promises, Mitch Joel is the real deal. He lives the work he talks about, and he does it with generosity and insight."
Paid Members of NYDLA: Email the receipt from your book purchase to MitchJoel@NYDLA.org and we shall credit your NYDLA membership fee for one month (a $25 value). Fill out this form to purchase the book from his website.