Noted CEOs, academics, and military personnel share their experience as visionary leaders
The Vision Code explores the concept of "vision" and leadership. The book reveals the secrets of building and executing a strong vision within any organization. Oleg Konovalov―an acclaimed global thought leader―draws together in one volume in-depth interviews with nineteen extraordinary global visionaries that represent a variety of industries and organizations. These leaders explain why a vision is needed, how to implement it, how to communicate a vision effectively, and how to live by it with integrity.
As Oleg Konovalov explains, vision is a key leadership skill that can be developed as a practical business tool for leading a company today and into the future. The stories of the nineteen leaders reveal how to develop a compelling vision and follow through with the vision in order to inspire an entire workforce. When a leader taps into the power of "vision," he or she creates a more meaningful business experience and ultimately, a better life. This compelling book:
Offers a guide for making the concept of vision a reality.
Provides the information needed to develop a clear and persuasive vision.
Contains an accessible guide to a much-needed skill.
Includes interviews with Marshall Goldsmith (#1 Leadership Thinker), Martin Lindstrom (#1 Branding Expert), Garry Ridge (Chairman and CEO of WD-40 Company) and many others.
Written for leaders at all levels in organizations and industries of any type The Vision Code is a must-have book for anyone who wants to develop the skill to become a visionary leader.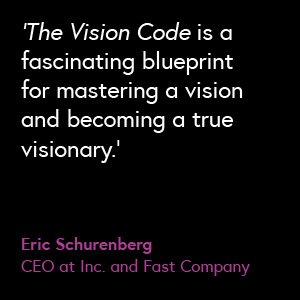 "Oleg Konovalov is the true whisperer of vision who reveals its practical nature. In his The Vision Code, he offers a simple six-step business tool for creating, constructing, and executing a strong vision. The ultimate reading for all modern leaders."
Charlene Li
Founder of Altimeter, a Prophet Company, New York Times bestselling author of The Disruption Mindset
"Oleg Konovalov is the 'Whisperer of Vision'. He opens a new page in understanding vision and how to make it a reality. The Vision Code is an incredible contribution to the business world and to visionary leadership in particular, making it accessible to millions of modern leaders."
Benjamin Croft
Founder and Chairman, WBECS Group
"The Vision Code is packed full of insights and great examples of the value of a clear, compelling vision. Of particular value is the section on execution — an often-neglected aspect of developing a vision: You have to make it real. The book presents a rich, multidimensional view of organizational and personal vision that will expand and enhance any leader's perspective."
"Vision is essential to successful leadership, but often misunderstood and poorly conceived. In this insightful guide, Oleg Konovalov lays out his own compelling vision for what visionary leadership consists of and where its value lies and presents it as a simple yet very practical business tool. The Vision Code defines a new stage in visionary leadership development."
"When you have a vision, work becomes an adventure! This beautiful book will inspire the best in you to create your own vision and your own adventure. It is all here for you to discover. Don't miss the chance for a more meaningful career and life! Read, study and share this treasure!"
"The Vision Code provides a compelling framework, clear narrative and a sound framework to decode what is a real vision in organisations. Yet, the book is not only deep and fascinating but also extremely practical by providing a roadmap, examples, storytelling. Is a truly remarkable book we cannot afford to miss."
Paid Members of NYDLA: Email the receipt from your book purchase to OlegKonovalov@NYDLA.org and we shall credit your NYDLA membership fee one month (a $25 value). Fill out this form to purchase the book.