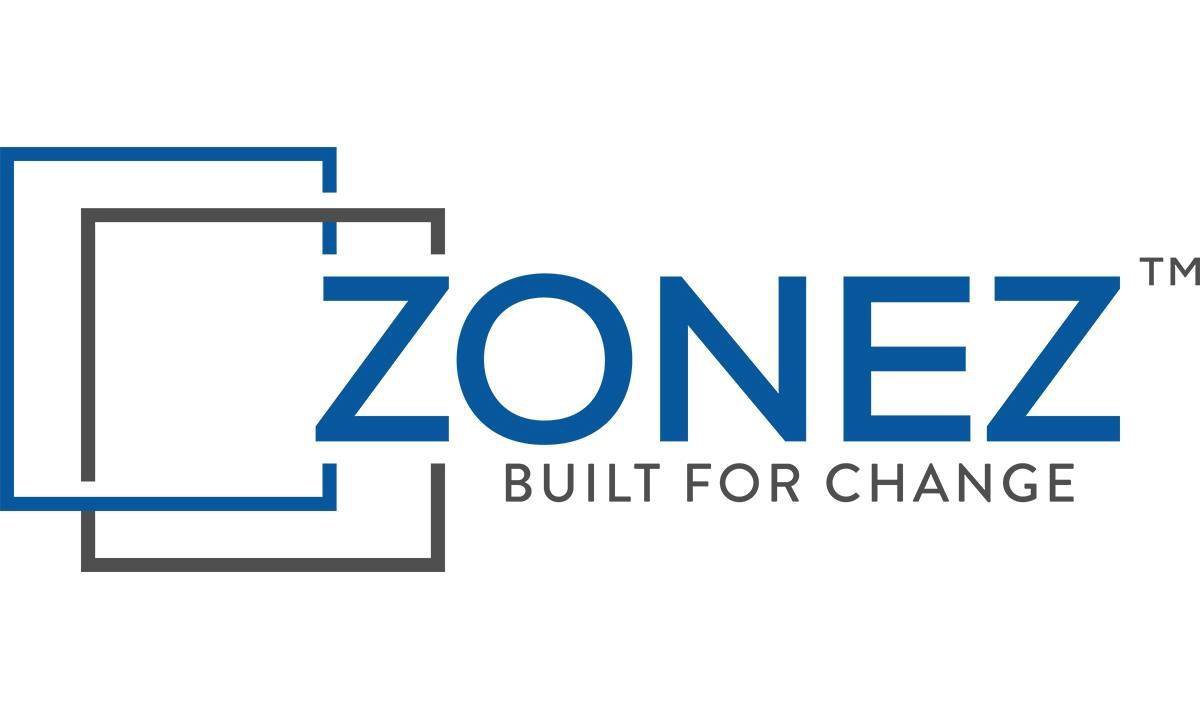 BUILT
TO OUTPERFORM
EXPECTATIONS
Our privacy suites are each carefully designed
through years of research and experience.
Zonez is a new brand, and a subsidiary of Allied Modular Building Systems, Inc., who has been building quality modular spaces for over 30 years. Utilizing the Allied engineering expertise, Zonez has created modular privacy suites on a smaller scale, to fit into your open-office space and provide privacy for your employees, whether it be for concentration, conversation, or collaboration.
INSIGTHFULLY DESIGNED SOUNDPROOF SUITES
Constructing new spaces is difficult. At Zonez we have drawn from our 30+ years of modular construction experience to design office solutions making it easy for organizations to get the spaces they need, when they need it, with minimal disruption.
Zonez / Allied Modular has been in the business of manufacturing modular enclosures for almost every type of business for over 30 years. We have taken the knowledge we have acquired and used it to create purpose-built, privacy, and collaboration spaces. Zonez suites are engineered to make the difficult easy while providing maximum comfort for end-users.
Traditional construction can be painstakingly difficult and expensive. Our thoughtfully designed suites connect easily to the real world and make it easy for companies to get what they need when they need it.
4'x4′ CONCENTRATION SUITE
Zonez 4×4 Concentration STC42 Privacy Suites are free-standing units providing single users high levels of visual and acoustical privacy for their conversations in open office environments. Each enclosed privacy suite provides a high level of visual and acoustical privacy.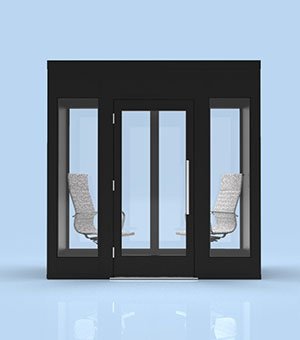 8'x4′ CONCENTRATION SUITE
The Zonez 8'x4' Conversation Suite is a purpose-built, private, meeting
solution. Ideally suited for two, this thoughtfully designed suite provides a quiet collaboration space for your next one-on-one meeting.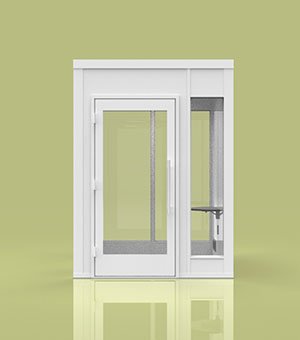 6'x6′ CONCENTRATION SUITE
The ADA compliant Zonez 6'x6' Conversation Suite is a stand-alone privacy solution designed for the open office workspace. The suite is made to accommodate up to three occupants while providing a quiet and comfortable environment to think, create, plan, or collaborate.
10'x10′ CONCENTRATION SUITE
The Zonez 10'x10' Collaboration Suite is a stand- alone privacy suite that accommodates up to six occupants. The spacious suite gives users a private space to collaborate, away from the distractions usually associated with an open office.
6'x6′ MOTHER'S ROOM
At Zonez, we believe new mothers should return to work happy, healthy, and fully supported. The Zonez Mother's Room is a serene suite that allows working moms to breast pump in peace. Each Mother's Room includes a comfort shelf, full length mirror, magnetic whiteboard, comfort enhancing airflow, wall mounted reading light, USB charging outlets and power outlets.
AIRFLOW & AIR QUALITY
One of the biggest challenges in creating fully enclosed spaces is providing enough airflow to keep people comfortable and healthy. For several models, Zonez has designed a proprietary in-wall, intake, and exhaust airflow system to maximize air exchanges and comfort. Most modular suites in the industry simply exhaust air out of the room. At Zonez, we pull in fresh, cool air and exhaust hot air while creating enough air movement to keep employees comfortable while using our modular rooms.
In addition to our state-of-the-art airflow system, we have created an air purification system using true HEPA filters and UV-C light. Customers can add the air purification units to their suites to maximize filtered air exchanges while keeping their employees refreshed and as safe as possible.
CEILING CONFIGURATIONS
Fully enclosed rooms need to have well-engineered ceiling solutions.  At Zonez, our ceiling solutions are best in class.  They make it easy for companies to adhere to local building codes while maintaining their acoustical integrity and modular benefits.  Our 4' x 4' Concentration Suite utilizes a solid ceiling that locks in place to maximize the acoustical properties.  All of our other suites larger than 4' x 4' utilize the same ceiling solution our parent company installs in its commercial-grade Clean Rooms.  This proprietary grid ceiling solution uses STC 42 sound-absorbing tiles to maximize privacy.  The grid ceiling design makes it easy for companies to connect to HVAC or fire suppression systems while maintaining the modular benefits of the suite.  Customers can purchase optional, FM-approved melt-away ceiling tiles to adhere to local fire codes or they can choose to leave the grid open by not installing any ceiling tiles.  The Zonez ceiling solution is superior in the industry to all other options.
Zonez Melt-Away Ceiling Tiles are constructed using modified beads.  Specially made to melt out of a suspended ceiling grid system, Zonez Melt-Away Tile is Factory Mutual approved for installation below an automatic sprinkler system. Just lay the panel in the grid*. The tiles may be removed and cleaned with mild soap and water. They can be painted with water-based paint, but doing so will void the Factory Mutual approval.
 Zonez Melt-Away Tiles are available in 1″ thickness only.  Long term service temperature of Zonez Melt-Away TILE is 167° F. Care should be taken not to use this melt-away ceiling tile near heater vents, steam pipes, chimneys, or any other surface that has the potential of reaching 150° F or more.
SOUND ABATEMENT
All Zonez suites are constructed using a proprietary, sound-dampening, wall system. Our proprietary wall system is constructed using four different layers of STC42 sound-absorbing materials. Our engineers have gone to great lengths to ensure each hollow channel and connection point is fully insulated to minimize vibration and maximize privacy.
In addition to our sound absorbing wall system, Zonez suites use only dual-pane glass throughout. Our full windows contain a 3" air gap between each pane of glass to further maximize privacy and create a seamless, clean aesthetic.
COMPANIES EMBRACING OUR BUILDING ADVANTAGES
Zonez – Built For Change
NYDLA Members enjoy SPA (Special Pricing Authorization) for all things Zonez
For more information fill out the form below or send an email to Zonez@NYDLA.org
YOUR NEW FAVORITE SPACE IN THE OFFICE
Privacy suites have become the highest occupied resource in today's office space.