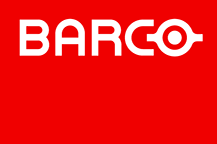 Enabling Bright Outcomes
We enable bright outcomes by transforming content
into insight and emotion
A brighter approach
to connect and engage
Imagine a way to see, sense, and share the intangible. It's what happens when big data becomes knowledge. When images become insight. And when experiences come to life.
That's what Barco is all about.
Breathtaking experiences to rock and shock
In a world where data and rich content are expanding exponentially, we empower you with impressive visualization and innovative collaboration solutions to help you make meaningful connections.
For us, it's you – the customer – that counts. We help you achieve your goals, whether it's protecting the health and safety of millions, creating magical moments, or supporting people to work smarter together.
We help you get the most out of what you do every day. So together, we create brighter outcomes, around the world.
A Full Range af Enabling Solutions
Barco is a global technology leader that develops networked visualization solutions for the entertainment, enterprise, and healthcare markets. Our solutions help people to enjoy compelling entertainment experiences; they foster knowledge sharing and smart decision-making in organizations and help hospitals provide their patients with the best possible healthcare.
Going for sustainable impact
Our sustainability strategy is an integral part of our corporate strategy, 'Enabling bright outcomes'. Because we believe growing our company goes hand in hand with helping our people and the communities around us thrive, while safeguarding our planet. That's why our sustainability strategy focuses on these three pillars: Planet, People, and Communities.
We use the Sustainable Development Goals (SDGs) defined in the UN Agenda as a guideline to shape our approach and scale up our contribution to the areas that matter most to society and where we can achieve the greatest impact. The progress we make is described in our yearly sustainability report.
weConnect
Connecting people, sharing knowledge
weConnect allows educational organizations to take a next step towards transformational teaching and training. As the pace of digitization is accelerating every day, weConnect is an essential and reliable corner stone of your digital strategy. weConnect promotes collaboration and active learning, on-site and online.
ClickShare CX-30
Seamless, wireless conferencing for small to medium-sized meeting and conference rooms.
For meetings to be as productive as they can possibly be, participants need to feel engaged and inspired. ClickShare CX-30 from Barco offers a seamless wireless conferencing solution that can be used on any device to bring teams together–wherever they are in the world–to participate in inclusive meetings that generate the best ideas and discussion points. Compatible with any PC, laptop or Mac device running Windows, Android or iOS operating systems; ClickShare CX-30 can turn small to medium-sized meeting rooms into innovative meeting and conference facilities.
Barco Synergi
Software for clinical collaboration
A successful Tumor Board or Multi-Disciplinary Team meeting depends on more than bringing cancer specialists together. Keeping everyone focused with simultaneous access to patient data, images, and clinical case information is the key to engagement.
The vendor-neutral Barco Synergi™ platform simplifies preparation for Tumor Board or MDT meetings, increases collaboration, and expedites follow-up procedures. With greater flexibility and fewer administrative tasks, clinical teams can efficiently review more patient cases.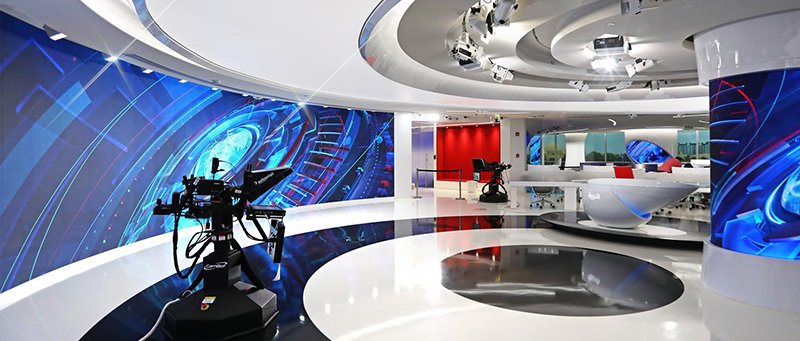 Barco UniSee 500
55" bezel-less tiled LCD video wall platform for a wide application range with controlled ambient light
Barco UniSee's bezel-less design, which makes the inter-tile gap barely noticeable, enables spreading content over multiple tiles without the interruption of a disturbing black border. The revolutionary UniSee Mount uses the power of gravity to perfectly and automatically align panels – and keep them in place over time. What's more, UniSee Mount also eases maintenance efforts, allowing swift undocking of separate panels.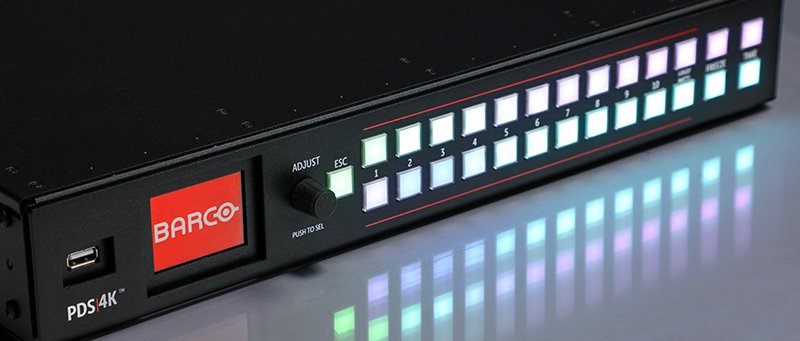 Barco PDS-4K
Simply switch, now.
Meet our newest addition to Barco's industry-leading image processing platform: PDS-4K. This full-screen presentation switcher for diverse applications is built for those settings requiring the highest quality and flexibility. It brings the best experience to your audience, while also being exceptionally easy to install and use.
Manage your content with ease and engage even the most critical audiences.
The trinity of Barco services
From installation support at the set-up to in-depth deployment trainings. From on-site assistance to remote device management platforms. Whatever you need to bring your project to a successful conclusion, we've got your back from start to finish. Discover the three pillars of our services program to learn more about how our broad service offering can help you get the most out of the Barco hardware and software solutions.
Your project is our priority, which is why Barco's services program is designed to drive positive outcomes together.
Our mission is to enable the brightest and most reliable outcomes for you through
✔ a great product experience,
✔ ultimate peace-of-mind,
✔ maximum efficiency and ROI
Check our Enable – Protect – Optimize service offering below, don't hesitate to reach out for more information.
FIRST-TIME RIGHT
A good start is half the work, that's why our services go beyond (and before) the basic offering of hardware maintenance and repairs. Our goal is to enable a successful implementation of the Barco products in the field, from start to finish. Count on our project expertise and professional installation services to set off on the right foot.
ULTIMATE PEACE-OF-MIND
All of the Barco products are covered with a comprehensive standard warranty policy. In our mission to guarantee a longer product lifetime and maximum uptime, you can choose to upgrade and extend that standard coverage with our additional portfolio of Barco EssentialCare service contracts. Get full peace-of-mind with the support tailored to your specific needs. Need fast parts delivery, 24/7 expert helpdesk access or on-site maintenance? We have the perfect Barco EssentialCare package for your project.
MAXIMUN EFFICIENCY & ROI
Barco services don't stop after the repair and maintenance of your units. We go beyond the regular offering with IoT asset management platforms and dedicated success managers. Use your set-up to the fullest and get maximum efficiency, reliability and quality with our optimize service packages (ConnectCare, SmartCare, ExpertCare, ManagedCare).
BARCO – Your Global Technology Partner
NYDLA.org members get special pricing on all Barco products and services!
For more information fill out the form below or send an email to Barco@NYDLA.org
An Inspiring High Tech Employer
We thrive on continuous innovation, teamwork and people talent, helping customers achieve their goals.